Be thankful today because it's Thanksgiving. Be grateful every other day to improve your life. It's truly amazing how the Law of Attraction works. The more you're grateful for what you have the more you draw great things in your life.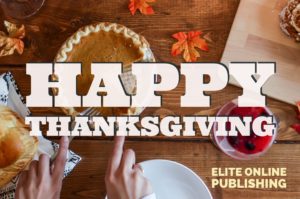 We here at Elite Online Publishing have a lot to be thankful for. We are so grateful for all of the amazing authors we have been able to assist in bringing their amazing works to the world. We are grateful to have worked with so many amazing people who are sharing powerful, life changing messages. It is a privilege to play a small part in the difference they are making. We look forward to making an even bigger difference by helping thousands of new authors share their gifts with the world.
In the spirit of giving we would like to give you the gift of our newest course. Feel free to share this with any author you know that is working on writing or promoting their book. It's packed full of great information to have an author's toolbox.  below to watch the free course!
Click Here to Watch: The Five Secrets of Best Selling Authors
If you are looking for a way to expand your gratitude and thereby improve your life,  you may enjoy one of our gratitude journals.
Click Here for details and to purchase
Have a Blessed Thanks Giving Life!