A website is an essential piece of any marketing plan and enables readers to find you and your book online. Broaden your promotional efforts, and increase your chance of discovery with your own custom website.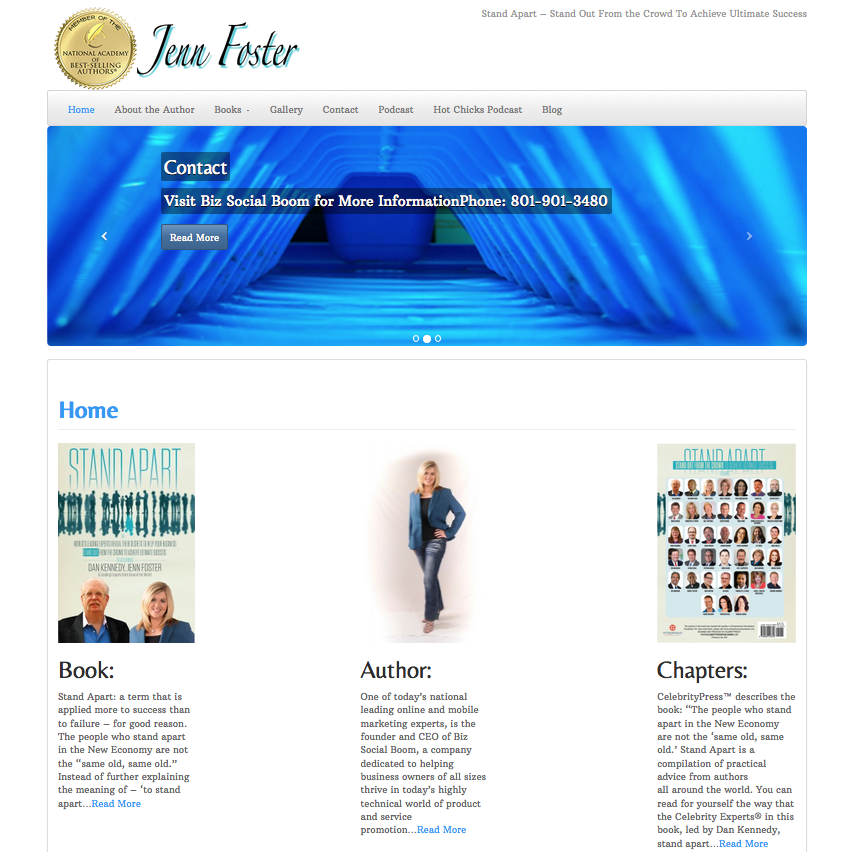 Our Web design team has the technical skills and knowledge to help you get started. Once we set up your website, as long as you can use a computer and have access to the Internet, you can start using this personalized tool as a central piece of your online marketing strategy.
An author website can reach beyond the bookshelf to help YOU generate more business and build your fan base.
Info Website 
The INFO WEBSITE is for those who need an online presence that offers information to their customers.  Your team of experts works directly with you to create custom
content, pick the correct imagery, customize colors to match your branding, and give you an overall professional web presence.
Lead Website 
The LEAD WEBSITE is a powerful marketing tool which lead generates leads, allowing you to make sales 24/7 . . .Get everything from the "info" package, plus the ability to collect
information from your visitors for list-building and lead generation. Your site is now a 24/7 sales agent.
eComm Website-
The ECOMM WEBSITE provides an e-commerce solution allowing you to sell digital or physical products online . . .Get everything in the "lead" package plus an online store allowing you to sell digital and
physical products 24/7.
What you get:
Website Setup – After you purchase our Author Website Setup – Premier service, one of our representatives will contact you to set up your website. Your website will have:

10 Pages, including Home, About the Book, About the Author, Excerpt, Contact page and Order Now
Up to 60 megabytes of images

Blog – Keep readers and fans in the loop with your very own blog. This creative outlet will let you promote your book and build a following.
One Year of Hosting – This plan ensures that your site is functioning, a backup copy of your site is safe and secure, and that technical support is only a call or email away if needed.
Domain Name – You will have the opportunity to choose the domain name for your website. Supply us with your top three choices, and we'll let you know which one is available.
One Email Account – Email readers, friends and family with an address that comes from your own website.
Design Effects – Add extras such as rotating headers, flash designs, two animated images, an animated book excerpt and mouse-over effects.
Gallery – Display photos of events, drawings from your pages or pictures of your own friends and family.
Guest Book – Interact with your visitors. They can sign your virtual guest book.
Email Collector Widget – Build an email list of fans with a widget that allows website visitors to submit their email addresses for correspondence.
This service includes the initial setup of your site, and you are then responsible for updating your blog and the media section of your site as often as you like. After the initial setup, we can perform design changes upon request for an additional fee. Once your first year of hosting has passed, you will be responsible for paying a yearly site hosting and domain name renewal fee for as long as you want your website to be available on the Internet.