FOR IMMEDIATE RELEASE:
7 Costly Mistakes When Choosing a Publisher: Self Publishing Secrets That Will Save You Thousands by Best Selling Authors Melanie Churella Johnson and Jenn Foster Hit #1 in FIVE Categories on Amazon.com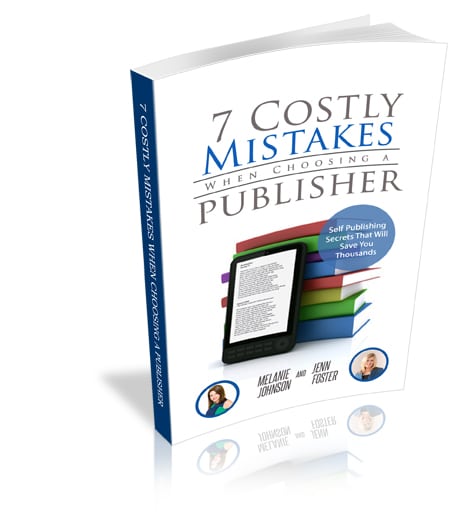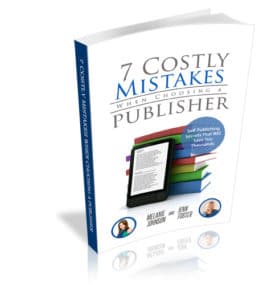 Salt Lake City, UT Friday, March 16, 2018
Melanie Churella Johnson and Jenn Foster of Elite Online Publishing release another #1 International Bestseller on Amazon.com.
On the day of release, their book started its upward movement towards best-seller status on Amazon.com and reached #1 International Bestseller status in FIVE categories in US and CA. Including Editing Writing Reference, Digital Media, Study Guides, Publishing and Books, & Small Business Marketing.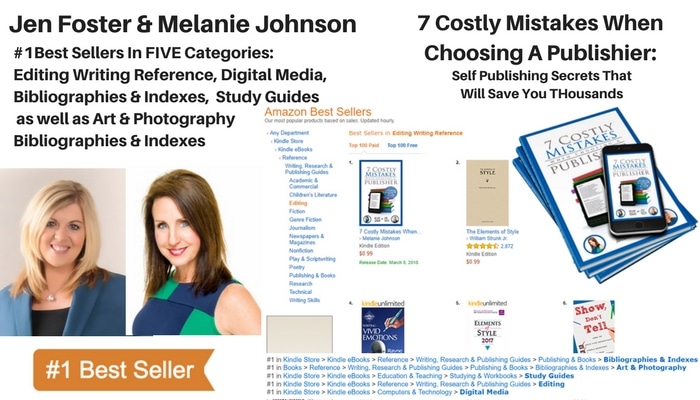 Avoid major publishing mistakes by reading the tips and secrets by self-publishing experts Jenn Foster and Melanie Johnson. Are you looking for a publisher? Are you not happy with the one you have? This book will teach you the right questions to ask, make sure you get the most royalties and best marketing for your book.
Are you confused about the differences between Self Publishing and Traditional Publishing?  We will lay it all out for you, so you can decide the best way to go for you and your book. Jenn Foster and Melanie Johnson share their expertise in making all their authors #1 bestsellers. This information will not only save you money but will help you make money with your book.
About The Authors:
Jenn Foster:
Jenn Foster is one of today's national leading online and mobile marketing experts. She is the founder and CEO of Biz Social Boom, a company dedicated to helping business owners of all sizes thrive in today's highly technical world of product and service promotion. She is dedicated to helping businesses use powerful new online and mobile marketing platforms to get visibility, traffic, leads, customers and raving fans. A graduate of Utah State University, Jenn is an award-winning web designer, author, and sought-after speaker. She received an Award in Hollywood from the National Academy of Best Selling Authors. Jenn enjoys raising and having fun with her three children, and family.
Additional information about Jenn and her business can be found at www.JennFosterSEO.net
Follow Jenn at:
AuthorJennFoster.com/ or Facebook.com/AuthorJennFoster/
Melanie Johnson:
Melanie launched owned and operated 2 independent TV stations in Houston and Dallas Texas: Houston (Channel 51) and Dallas (Channel 55) Melanie has a background in Media, Marketing, Public Relations and Advertising. She has been in front of, as well as behind the camera. She started her career as a  News Anchor, Producer, Writer, Public Relations, Promotions, Tv ad sales, Programming negotiations and Financial Strategist.  She is the SEO of Charity Auction Consignments. Melanie graciously donates her vacation properties to help raise money for nonprofits. She lives in Houston Texas and originally from Michigan, where she earned the title of Miss Michigan. She is relishing raising her 2 sons, who keep her motivated and young.
Follow Melanie at:
AuthorMelanieJohnson.com/ or Facebook.com/AuthorMelanieJohnson/
Jenn Foster & Melanie Churella Johnson are the co-owners of Elite Online Publishing.
Learn more about Elite Online Publishing and their offerings by clicking the links below.
YouTube Channel – Elite Online Publishing
Podcast- Elite Expert Insider
Elf Shelf Activity & Coloring Books
Elite Journals
Book Writing Fast Pass Course
Zero to Hero Course
Free Course: 5 Secrets To Marketing Your Book