We are excited to announce the launch of the new book by James McEachin "Swing Low My Sweet Chariot: The Ballad of Jimmy Mack"
TODAY ONLY, the Kindle eBook is only $1.99. Head over to Amazon and order your eBook for yourself or a friend. Hurry before the price goes back to the regular price.
Share this link:  https://amzn.to/2XPD1iN 
International Link: https://authorexperts.club/show-book/B09H9P2C5G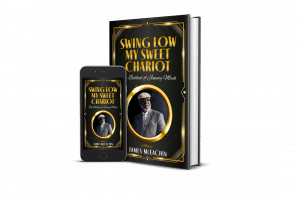 ABOUT THE BOOK
The road has been hard, and the road has been long…
In his own words comes the song of James McEachin's his-story, his early years were spent in segregated North Carolina where he had few opportunities to know what was beyond the cotton fields and shanties of Rennert.
The move to Hackensack, New Jersey opened his eyes to new possibilities and there he fell in love with the uniform, joining the Army at just 17. It was during his second hitch that he would experience the darkest of days, the horrors of war when he almost died in a field in Korea.
 Returning to Hackensack he went on to wear both a fireman's uniform and a policeman's. But there were other challenges and opportunities in California, so he followed his destiny to Los Angeles.
 On an impulse James became part of the growing music scene, writing, producing, and finding new talent. He also picked up a new name along the way, Jimmy Mack. A twist of fate, somewhat fueled by James' recalcitrant ways, had him on yet another road, one that led to the Silver Screen. Being in the right place at the right time served to get James onto both the big and small screens of Hollywood. He appeared in almost 200 TV shows and movies.
 Always a man of words James began to write and his first novel, Tell Me A Tale, was an award winner. He has gone on to write six more books, as well as multiple screenplays.
 Swing Low, My Sweet Chariot: The Ballad of Jimmy Mack transports the reader past the racism of the day, and its seemingly impossible odds, placing the reader squarely into the reality of a life well-lived and a country well-served in this timeless tale of James McEachin and the band of angels ushering him through every stage.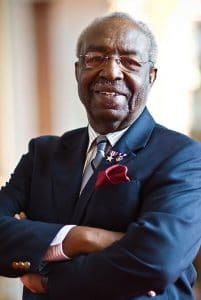 ABOUT THE AUTHOR
James McEachin is a Silver Star, Purple Heart veteran of the Korean War, an accomplished actor, and an award-winning author. Known as "Jimmy Mack" in the music industry, McEachin was a producer, songwriter, and eventually owner of the record label Mack IV best known for the doo-wop group, The Furys. Because of his long-held moniker in the industry, some speculate James McEachin to be the Jimmy Mack Martha (Reeves) and the Vandellas cried for in their hit song.
McEachin, having appeared in nearly 200 movies and television shows is perhaps best known for his roles on Perry Mason, Matlock, Play Misty for Me, First Monday, and his NBC series Tenafly. He has authored six novels, multiple screenplays, and his one-man play, entitled Above the Call; Beyond the Duty which opened at the Kennedy Center in Washington D.C. The two-hour play has been seen in places as far away as Kuwait.
In 2005 McEachin was appointed a US Army Reserve Ambassador and spent his free time speaking to soldiers, veterans, and America. In late 2006 he produced the film short Old Glory, a film short for the soldier, veteran, and patriot in us all.
He continues to speak for the veterans who may no longer have a voice to speak for themselves.
Currently, he is in discussion with two production companies regarding his award-winning novel, Tell Me A Tale.
Follow James
Facebook.com/authorjamesmceachin
Instagram.com/jamesmceachinauthor
Click Here to get your copy for only $1.99 today.
Watch the Video Trailer

PS – It would be a super extra favor to the author if you had the time to write a review of the book on Amazon. We will look for feedback on what you thought about the book and the biggest benefit you received from the book.