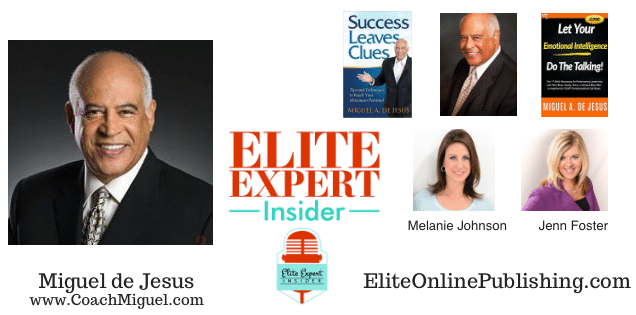 We are proud to announce the new podcast interview with Expert and Coach Miguel de Jesus.  Coach Miguel talks about the importance of a coach. Personal Coaching compared to business coaching.  He also talks about his speaking and coaching c-level businesses. Listen to his podcast on Stitcher, iTunes or our Website.
We love to hear from you – Leave a comment or question.
You can access the Podcast here:
ELITE EXPERT Insider  is a weekly podcast that educates, inspires and motivates entrepreneurs, innovators and growth seekers. Hosts Melanie Johnson and Jenn Foster, owners of Elite Online Publishing, will bring you conversations from business, personal development to health and fitness. They will chat with special guests, industry leaders, authors, business and marketing experts and just darn interesting people.  It's the show that will up your game!
Miguel is a Highly accomplished, results-oriented C-level leader with more than 20 years experience overseeing business management, global sales/marketing, with two Fortune 500 companies. Sales Leadership Training professional, Executive Coach, Digital Marketing professional helping business leaders, authors, speakers, coaches and other professionals to improve their Digital Marketing efforts to gain more visitors, leads, and client conversions through the use of proprietary software.
To learn more about Miguel go to : www.CoachMiguel.com