DR. SCOTT HAMBLIN HITS #1 AMAZON BEST-SELLER LIST With His NEW BOOK
FOR IMMEDIATE RELEASE
Dr. Scott Hamblin, D.D.S. Hits #1 Amazon Best-Seller List With His New Book
Salt Lake City, UT-Tuesday, October 13th, 2016 – Dr. Scott Hamblin, D.D.S. Hits #1 Amazon Best-Seller List With His New Book: Get The Naked Tooth: The Truth and Benefits of a Healthy and Beautiful Smile: How Dental Implants Can Help You Live Longer, Smile With Confidence, and Eat the Foods You Want
The book was released on October 11th, by Amazon.com – the nation's #1 place to buy books.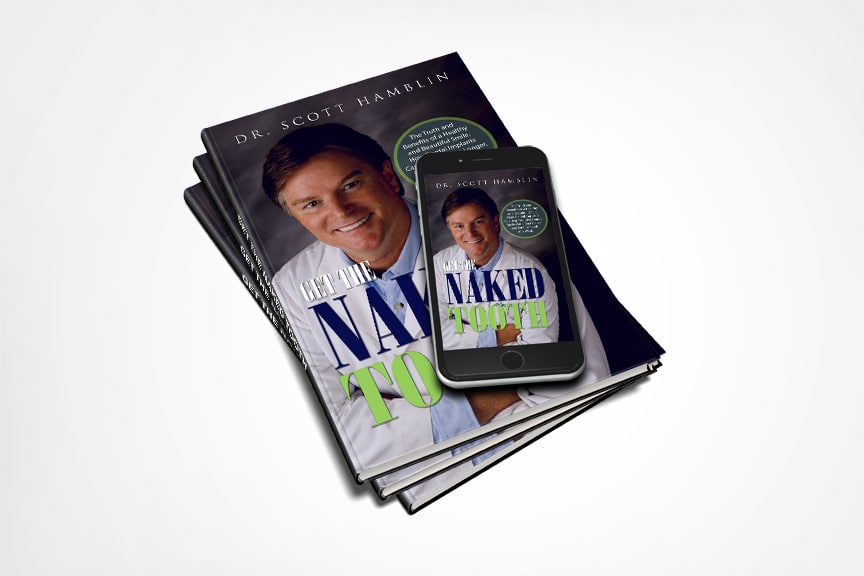 On the day of release, Get The Naked Tooth: The Truth and Benefits of a Healthy and Beautiful Smile: How Dental Implants Can Help You Live Longer, Smile With Confidence, and Eat the Foods You Want started its upward movement towards best-seller status in four categories: aging, oral health, oral surgery and oral maxillofacial.
-Do you seriously desire to CHEW COMFORTABLY and knock ten years off your appearance? (Hint: Many of our patients claim that most people rave about how they look like they've "lost weight, gotten a haircut, and look ten years younger" as a bonus from their new smile)
-Do you secretly desire to have a bright, white, healthy smile, preserve your existing teeth and live a longer, healthier, happier life?
-Are you sick and tired of ill-fitting dentures, missing, or worn-out teeth?
If you've answered "YES" to any one of these questions, then this book may just be the most important and emotionally life changing book you've ever read.
Get the Naked Tooth:   http://amzn.to/2d3fjY9
Contact Dr. Hamblin:   http://www.mysaltlakedentist.com/
About Dr. Hamblin:
Scott Hamblin, D.D.S. is embracing the dramatic evolution happening in dental care and treatment, and bringing them to his patients. His goal is to deliver the latest and best practices in ways that are consistent, comfortable and effective for his patients. He has been selected by Consumers Research Council of America as one of America's Top Dentists.
Dr. Hamblin was the team dentist for the Oakland A's professional baseball team for ten years. Dr. Hamblin has over 25 years experience as a practicing dentist in California, Utah, Nevada and Oregon giving him keen insights into what patients are seeking and how leading edge dentistry can fulfill those expectations. As an expert in implants, Dr. Hamblin teaches his techniques nationwide to other dentists. Dr. Hamblin is a graduate of Brigham Young University and Baylor College of Dentistry. His vast experience in aesthetics, implants, and sedation dentistry allows him to use the least invasive techniques and highest quality materials available. Dr. Hamblin is a member of The International Congress of Oral Implantologists, The American Academy of Implant Dentistry and The American Dental Association.  He is Invisalign Certified and chosen as the Salt Lake "Extreme Makeover" Dentist.  His unique cosmetic and implant dentistry has been featured on FOX News and ABC.
In his spare time Dr. Hamblin enjoys the outdoors: fly fishing, hiking, tennis, horseback riding, and biking. He also loves traveling with his wife, Linda. He is the father of 6 children, four grandchildren & many more to come!