Are you one of those aspiring authors with a manuscript gathering dust on your bookshelf, or perhaps you've been nurturing a book idea that remains trapped in your imagination? It's time to dust off those dreams and bring them to life!
We're excited to invite you to our upcoming webinar, "Write Your Book: From Dream to Draft," on November 2nd. This event promises to be an illuminating journey that equips you with the tools and knowledge needed to conquer the challenges faced by unpublished authors. Let's take your first steps toward becoming a published author together.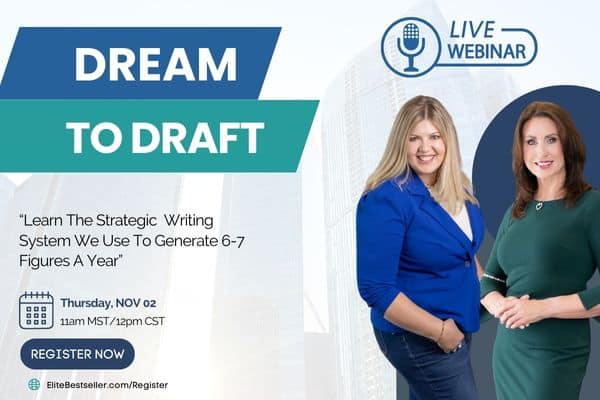 Webinar Details
Date: November 2
Time: 12 Noon CST / 1 pm EST / 11 am PST
Location: Online
Registration: Click Here to Register
Your Journey Begins Here
Have you ever felt like your writing journey was stuck in a perpetual dream state? If so, you're not alone. Many aspiring authors struggle to transform their ideas into tangible manuscripts. Our webinar, "From Dream to Draft," is designed to break through those barriers and set you on a path to success.
What You'll Learn
During this 1-hour to 90-minute webinar, you'll gain invaluable insights into various aspects of the writing and publishing process:
1. How to Write Compelling Content Quickly
Discover effective strategies to boost your writing speed without sacrificing quality.

Learn techniques to maintain consistent progress.
2. Harness the Power of AI in Your Writing
Explore how artificial intelligence can enhance your writing process.

See how AI tools can assist in generating ideas, editing, and refining your work.
3. Grow Your Online Presence and Income
Gain insights into building and leveraging your platform as an author.

Learn how to monetize your writing skills and turn your passion into income.
4. Launch Your Book to Bestseller Status
Get insider tips on how to successfully launch your book and gain bestseller status.

Learn from the experiences of seasoned authors who've climbed the bestseller charts.
Don't Let Your Dreams Languish
We understand how disheartening it can be to have a story within you that yearns to be shared but remains imprisoned by uncertainty. Your writing dreams don't have to remain unfulfilled any longer. Join us on November 2nd, and let's embark on this transformative journey together. It's time to take that pivotal step toward turning your aspirations into a reality.
Register here to secure your spot today and receive exclusive access to this empowering webinar. Our team of experts is thrilled to guide you on the path from "Dream to Draft." The world is waiting to read your story, and we can't wait to help you make it happen.
Prepare to unlock your author potential and kickstart your writing journey. Together, we'll turn your writing dreams into reality!