Elite Online Publishing Launched a Bestselling
Book by JT Mestdagh
Author JT Mestdagh introduced his new book  "Untether: Inspiration for Living Free and Strong No Matter What the Challenge" which climbed quickly to be a #1 Bestseller on Amazon.
March 22, 2019, 09:00 am Eastern Standard Time

Grosse Pointe Farms, MI -Elite Online Publishing today, announced it's newest bestselling author JT Mestdagh, who's recently released book, "Untether: Inspiration for Living Free and Strong No Matter What the Challenge" quickly climbed the charts to become a number one bestseller on the day of its release, March 21, 2019.

Published, Promoted and reached #1 International Bestseller in TEN Categories on Amazon in the US and CA. Including College Student Life and Physical Impairments in Canada. Including Special Education, Communicative Disorders in Special Ed., Learning Disabilities, Physical Impairments, Travel Biographies & Memoirs, Family & Inspirational Spirituality, Men's Inspirational Spirituality, and Miracles & Spirituality in the United States.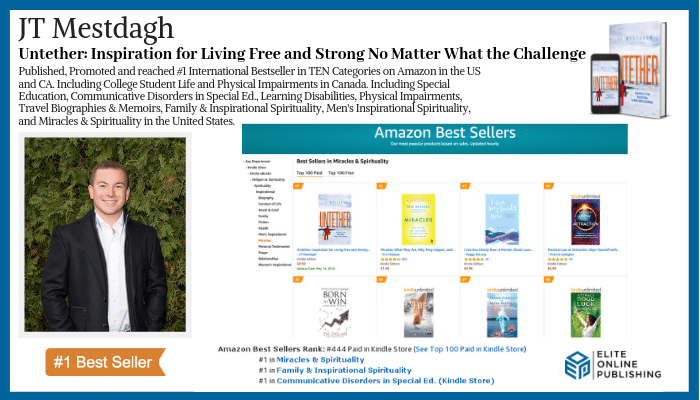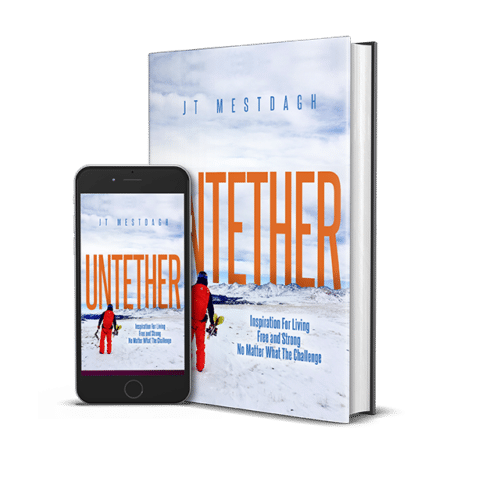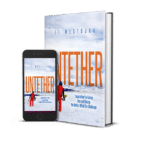 About the Book –
UNTETHER is the story of JT Mestdagh, a young man born with a death sentence and who is now an entrepreneur and adventurer on a mission to empower people to UNTETHER from limiting beliefs and to soar to their highest dreams.
Proceeds of book sales go to the JT Mestdagh Foundation, which Mestdagh launched to support people facing challenges, whether it be disease, disability, disappointment, or dyslexia. An extreme skier, experienced mountaineer, boater and car-lover, Mestdagh divides his time between Michigan and Colorado.
Diagnosed with a life-threatening syndrome called VATER/VACTERL, Mestdagh endured 250 days in hospitals before age 3 and 16 major surgeries before age 16. As soon as doctors discovered one condition and treated it, a new and worse one would pop up. On top of that, Mestdagh has such severe dyslexia and short-term memory loss that his school told him in fourth grade that he would be illiterate for life.
Infused with drama and humor, UNTETHER will pull you through the relentless suffering into light-filled breakthroughs—because Mestdagh and his family stood strong in their faith and never, never, never gave up.
Along with years of medical treatments and nonstop home care, his parents relentlessly hunted for the right program to help Mestdagh learn to read. Nothing worked until in fifth grade a God-arranged encounter with a unique system called Tattum Reading changed Mestdagh's life forever.
UNTETHER tells a story of courage, determination, and overcoming. Young or not-so-young, you will come away with a renewed sense of hope and possibility. Learn that you are not a mistake; you are created for something amazing. After all, if an ailing toddler who practically lived in a hospital can now climb Mt. Kilimanjaro, if a boy who couldn't read or write can now publish his memoir, you too have no limits to what you can accomplish!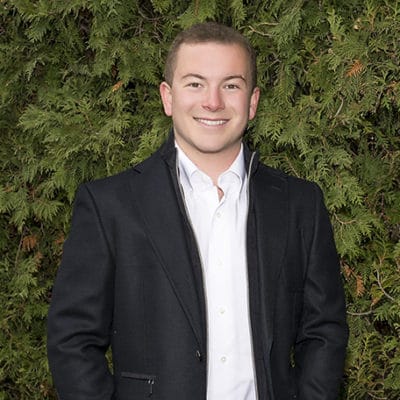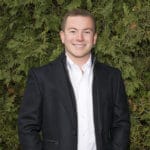 About the Author –
JT Mestdagh is a young entrepreneur and inspirational speaker based in Grosse Pointe, Michigan. A graduate of High Point University in North Carolina, Mestdagh is also an experienced mountaineer, extreme skier, boater, hunter, and adventurer who has made it his life mission to encourage people to untether from natural or self-imposed limitations and live full, passionate lives.
Born with life-threatening VATER/VACTERL syndrome, and extreme dyslexia and short-term memory loss, Mestdagh established the JT Mestdagh Foundation to bring encouragement, joy, and laughter to people with physical and learning disabilities and to their families. Proceeds of book sales support the foundation's efforts to provide tangible assistance and to encourage people to never, never, never give up.
About Elite Online Publishing
This book was published by Elite Online Publishing, the brand building publisher – write, sell, & market your book online. Elite Online Publishing helps busy entrepreneurs, business leaders, and professionals create, publish, and market their book, to build their business and brand. They are passionate about future authors sharing their stories, knowledge, and expertise to help others.  Educate, inspire and motivate others by telling your story.
Learn more about JT Mestdagh by clicking below:
http://amazon.com/author/jtmestdagh
Follow JT Mestdagh by clicking below: