Interview with Kevin Thomas Chen
When you create CONTENT on Social Media use the FOUR C's
COOL
COMEDIC
CUTE
CATS
http://EliteOnlinePublishing.com Melanie Johnson and Jenn Foster interview Kevin Thomas Chen, Marketing Expert, and Social Media Marketing Expert. How to Grow Your Followers to over 40,000.
Kevin Chen's blog has grown to over 40,000 followers. With features on the official Instagram Blog, L.A. Times, MAP Magazine Australia, and Red Bull BC One.
Today, Kevin currently helps businesses grow their brands online with his branding agency, MORALE. It's now his mission to help 1,000,000 aspiring entrepreneurs authentically connect their products/services to customers with beautiful design, story branding, and effective marketing. He is excited to document and share his journey. Learn more at http://www.MoraleAgency.com
ELITE EXPERT Insider  is a weekly podcast that educates, inspires and motivates entrepreneurs, innovators and growth seekers. Hosts Melanie Johnson and Jenn Foster, owners of Elite Online Publishing, will bring you conversations from business, personal development to health and fitness. They will chat with special guests, industry leaders, authors, business, and marketing experts and just darn interesting people.  It's the show that will up your game!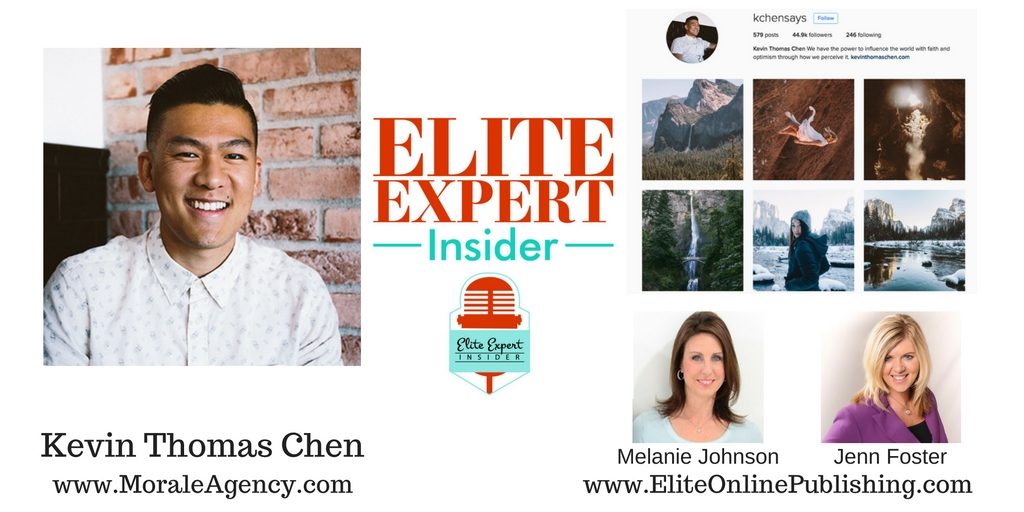 Website: http://www.MoraleAgency.com
Website: http://EliteOnlinePublishing.com
Listen online Elite Expert Insider Podcast
Listen on iTunes  https://itunes.apple.com/us/podcast/elite-expert-insider/id1125732165
Listen on Stitcher http://www.stitcher.com/podcast/elite-expert-insider?refid=stpr
Listen to the Audio Here!
Save