FOR IMMEDIATE RELEASE 
#1 International Bestselling Author Robert M. Brantner releases his book "Skyheist" with Success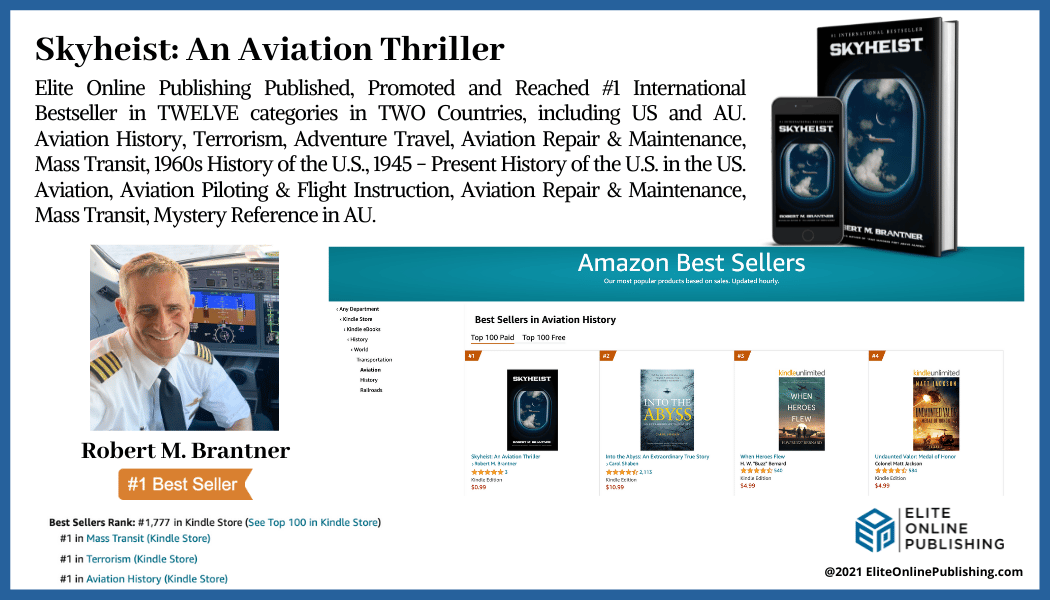 West River, MD– Wednesday, January 20, 2022 – Author Robert M. Brantner joined the ranks of bestselling authors on Amazon with his New Book, "Skyheist: An Aviation Thriller," which was released Tuesday, January 19, 2022, by Amazon.com – the nation's #1 place to buy books.
Elite Online Publishing Published, Promoted and Reached #1 International Bestseller in TWELVE categories in TWO Countries, including US and AU. Aviation History, Terrorism, Adventure Travel, Aviation Repair & Maintenance, Mass Transit, 1960s History of the U.S., 1945 – Present History of the U.S. in the US. Aviation, Aviation Piloting & Flight Instruction, Aviation Repair & Maintenance, Mass Transit, Mystery Reference in AU.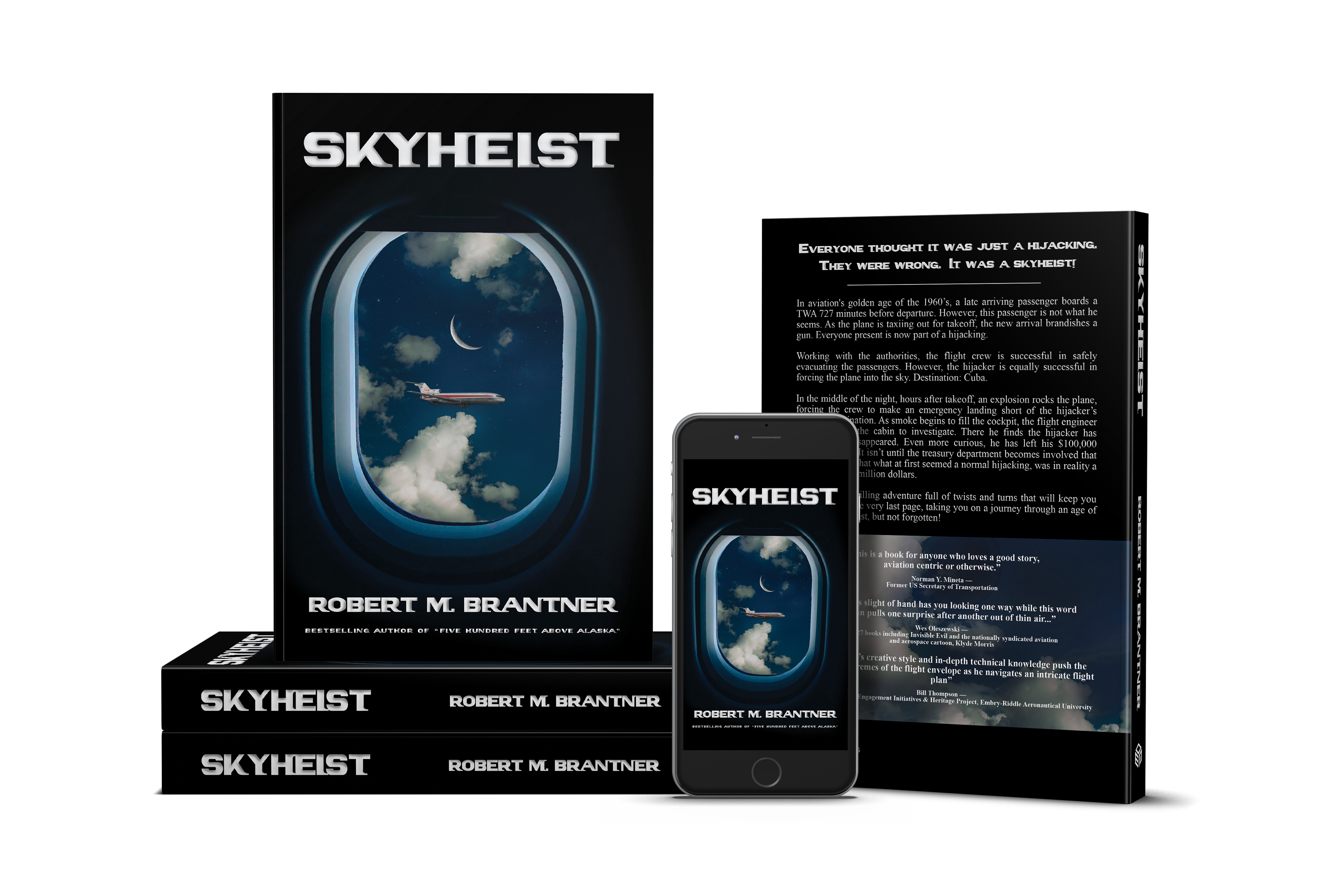 ABOUT THE BOOK
Everyone thought it was just a hijacking. They were wrong. It was a skyheist!
In aviation's golden age of the 1960's, a late arriving passenger boards a TWA 727 minutes before departure. However, this passenger is not what he seems. As the plane is taxiing out for takeoff, the new arrival brandishes a gun. Everyone present is now part of a hijacking. 
Working with the authorities, the flight crew is successful in safely evacuating the passengers. However, the hijacker is equally successful in forcing the plane into the sky. Destination: Cuba. 
In the middle of the night, hours after takeoff, an explosion rocks the plane, forcing the crew to make an emergency landing short of the hijacker's intended destination. As smoke begins to fill the cockpit, the flight engineer heads back to the cabin to investigate. There he finds the hijacker has mysteriously disappeared. Even more curious, he has left his $100,000 ransom behind. It isn't until the treasury department becomes involved that the crew learns that what at first seemed a normal hijacking, was in reality a heist worth $11 million dollars.
Skyheist is a thrilling adventure full of twists and turns that will keep you guessing until the very last page, taking you on a journey through an age of air travel long past, but not forgotten.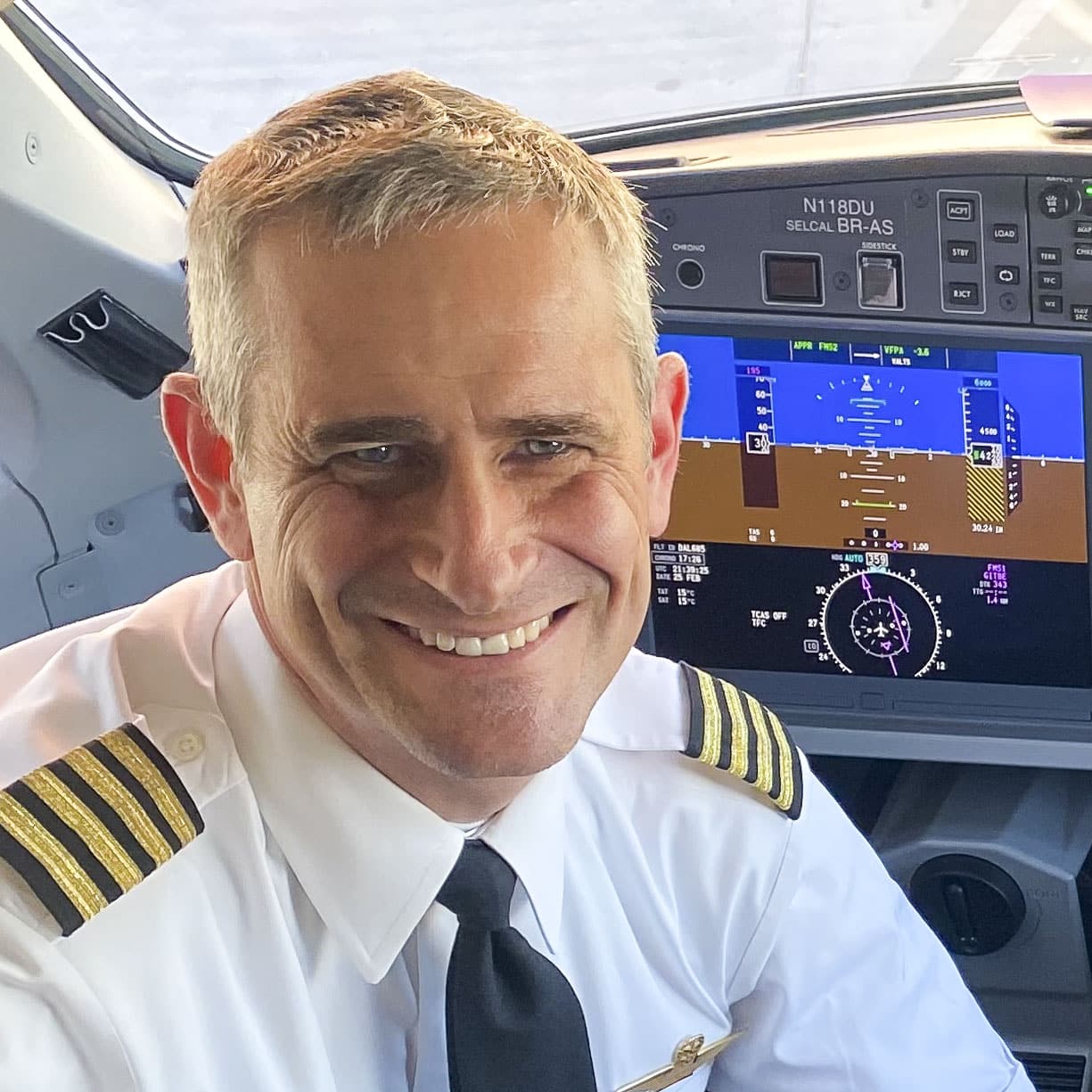 ABOUT THE AUTHOR
Robert M. Brantner is currently working as both a captain and a line check airman for a major US airline. He started his flying career as a bush pilot in Alaska, which later led to a job as a pilot for Trans World Airlines. After four years with TWA, Bob landed his dream job, working for the airline he flies for today.
All throughout his flying career, Bob has continued to write, and is the bestselling author of Five Hundred Feet Above Alaska and Claus: The Untold Story of Kris Kringle.
Bob was born in Southern California and attended Embry-Riddle Aeronautical University where he earned his BS in Aeronautical Science. He is married to Kelly Kaczka Brantner, and they have one daughter, Madison, and a dog, Fergus. They live just outside of Annapolis, Maryland. 
Click Here to Follow Robert M. Brantner on Facebook!
Click Here to Watch the Book Trailer!
Click Here to Order a Copy Book!
ABOUT ELITE ONLINE PUBLISHING 
This book was published by Elite Online Publishing, the brand-building publisher: Write, sell, and market your book online. Elite Online Publishing helps busy entrepreneurs, business leaders, and professionals create, publish, and market their book, to build their business and brand. They are passionate about future authors sharing their stories, knowledge, and expertise to help others. Educate, inspire, and motivate others by telling your story.
Learn more about Elite Online Publishing at EliteOnlinePublishing.com
A donation was made in Robert M. Brantner's name on behalf of Elite Online Publishing to sponsor a child at the Barbara Bush Literacy Foundation—the child will receive 6 books of their choice provided by the foundation. An additional donation was made to the Dolly Parton's Imagination Library, providing an Imagination Library book to a child each month for 1 year!
Learn more about the Barbara Bush Literacy Foundation
Learn more about Dolly Parton's Imagination Library