FOR IMMEDIATE RELEASE 
#1 International Bestselling Author Joel L. Franks releases his book
Creating Wealth Starts With Financial Health: Discover and Overcome Behavioral Risks in Your Financial Life
CHARLOTTE, NC– Monday, Apr 3rd, 2023 – Author Joel L. Franks joined the ranks of bestselling authors on Amazon with his New Book, Creating Wealth Starts With Financial Health: Discover and Overcome Behavioral Risks in Your Financial Life, which was released Tuesday, March 30, 2023, by Amazon.com – the nation's #1 place to buy books.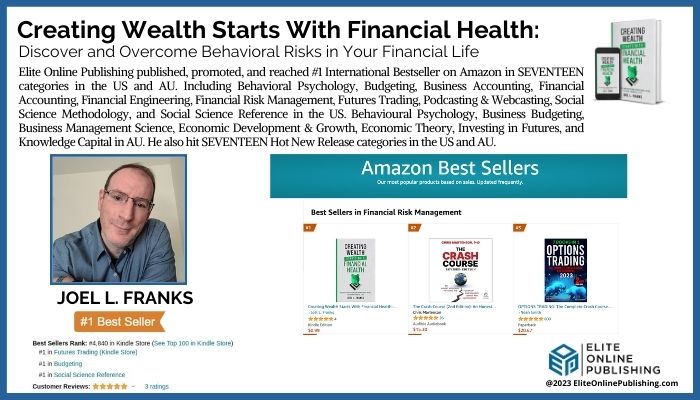 Joel L. Franks, a well-respected author in the world of personal finance, has just released his latest book, Creating Wealth Starts With Financial Health. Franks' thorough knowledge of financial behavior drives the content of this book, which will serve as an excellent guide for readers looking to identify and overcome potential financial roadblocks in their lives. The book hit the bestseller lists on its release date on Amazon, which should come as no surprise given the pedigree of its author, whose podcast has helped countless people take control of their finances over the years. If you're looking for a new perspective on wealth creation, then this book is an excellent place to start.
Elite Online Publishing published, promoted, and reached #1 International Bestseller on Amazon in EIGHTEEN categories in the US, AU, and CA. Including Behavioral Psychology, Budgeting, Business Accounting, Financial Accounting, Financial Engineering, Financial Risk Management, Futures Trading, Podcasting & Webcasting, Social Science Methodology, and Social Science Reference in the US. Behavioural Psychology, Business Budgeting, Business Management Science, Economic Development & Growth, Economic Theory, Investing in Futures, and Knowledge Capital in AU. Financial Interest in CA. He also hit TWENTY-FOUR Hot New Release categories in the US, AU, and CA.
ABOUT THE BOOK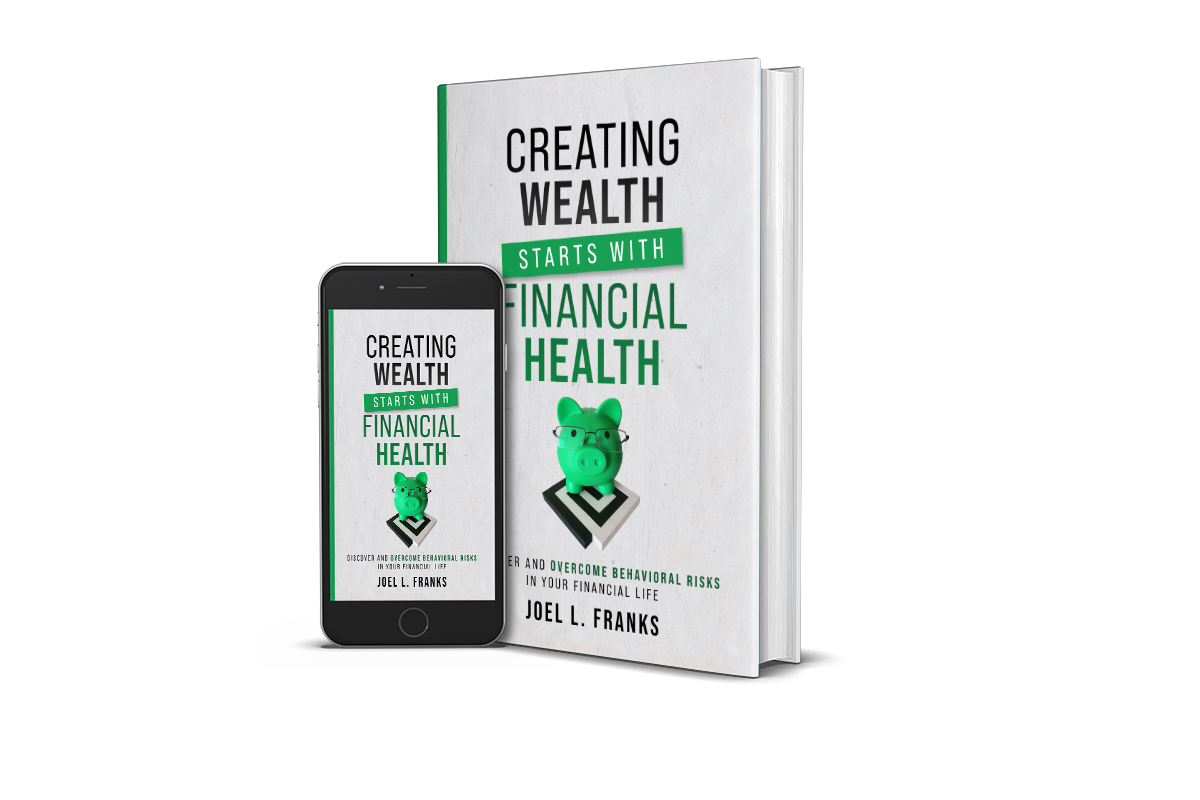 Do you recall in your youth when your parents would tell you not to touch something very hot? You stared right into their eyes, your index finger pointing straight out toward the object you were not to make contact with, and as your hand slowly continued its journey…your parents continued to give you disapproving looks. They once again repeated the verbal warning. Yet in spite of knowing this action could result in pain or punishment, or both…you touched it!
Why did we disobey the wisdom of our parents, or the logic that there might be dangerous or negative consequences of our actions? Fast forward to today and as an adult, the same scenario gets repeated over and over when it comes to your financial decision-making. So, why do we do what we do with money?
Creating Wealth starts with Financial Health explores the field of behavioral economics in a unique storytelling format that makes learning about the influence of behavioral biases and variability both entertaining and educational. This fundamental approach will not only help you discover various behavioral inclinations, you'll also learn about actionable steps to help you recognize these persuasive feelings and potentially harmonize your emotions with the choices you make in your financial life. Whether you're interested in accumulating wealth, growing wealth, managing wealth, protecting wealth, or intending to transfer wealth, revelations await for anyone seeking to improve financial health.
ABOUT THE AUTHOR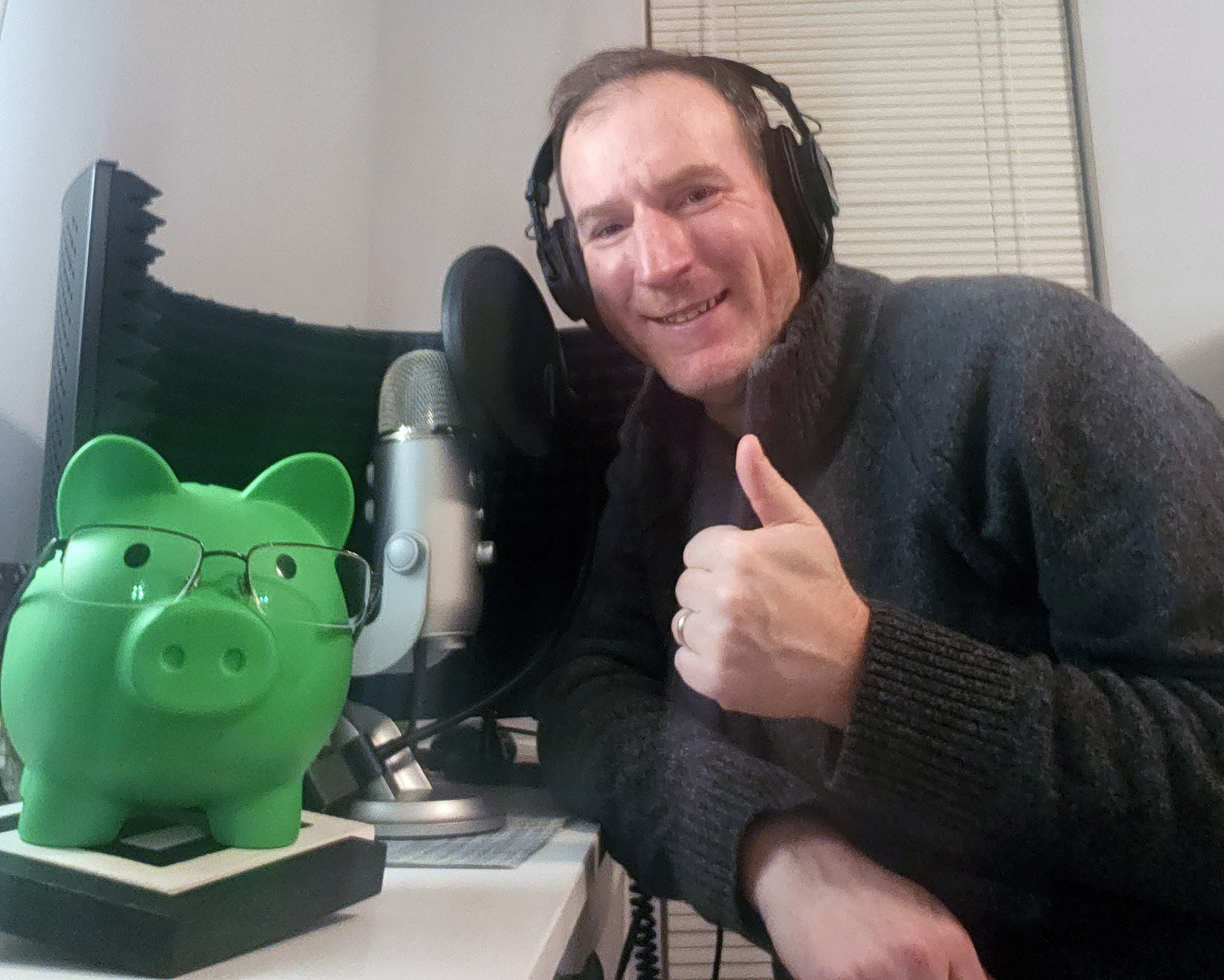 Joel is the founder of FinWizdom and an adult financial literacy facilitator. He is an accomplished financial content developer, educator, and trailblazer in applying behavioral finance to connect with an audience.
Joel is known for his keen ability to infuse behavioral economics when building content, messaging and deliverables that are relevant, engaging and shareable to a wide range of audiences. His career has spanned across many financial firms with household names. In addition, he has helped dozens of entrepreneurs and middle-sized organizations achieve desired growth and their goals–helping them sell more products, to more people, more often. He also teaches as an adjunct professor and presents at events large and small, but what is closest to Joel's heart is helping all walks of life attain financial well-being.
With extensive financial marketing experience in banking, investments and insurance, he offers a unique perspective to financial literacy. In addition to consulting for financial industry pioneers and giants, Joel is the host of the FinWizdom podcast series—an exploration of how your emotions influence your ability to manage money. He uses storytelling to explain investment concepts and various psychological biases that impact financial decision-making. His mission is to help individuals and organizations recognize behavioral risks and learn how to accommodate, not ignore, them.
Joel has several degrees and certificates obtained from Hofstra University, Pace University, New York University and Rutgers University. These range from a BBA and MBA in Marketing, a Certificate in Behavioral Finance and a Mini-MBA in Social Media Marketing.
He has residence in both New York City and in the vicinity of Charlotte, NC, and he takes advantage of what both have to offer in terms of culture, entertainment, foodie options, tennis and hiking adventures—often with his wife of more than 15 years. And when not out exploring, he is a voracious reader in a wide range of genres and continues to expand his knowledge around behavioral economics.
Follow Joel at FinWizdom.com
ABOUT ELITE ONLINE PUBLISHING 
This book was published by Elite Online Publishing, Authority In Every Word. Writing is just the beginning. It's about ensuring your book helps you smartly grow your brand, business, and credibility. Founders Melanie Johnson and Jenn Foster built Elite Online Publishing with a singular purpose in mind: to empower you to deliver authority in every word you write. They, along with their team of experienced publishers, deliver a high-touch and high-impact experience for creating, publishing, and marketing #1 bestselling books. In fact, they are passionate about more than telling great stories. They are adamant about proving the value of your perspective and expertise by ensuring you become a #1 bestselling author. So much so, they guarantee it. No matter where you are in the book writing process, Elite Online Publishing is your partner for creating, publishing, and marketing your #1 bestselling book. For more information, visit www.eliteonlinepublishing.com and tune into the Elite Expert Insider Podcast.
A donation was made in Joel L. Franks' name on behalf of Elite Online Publishing to sponsor a child at the Barbara Bush Literacy Foundation—the child will receive 6 books of their choice provided by the foundation. An additional donation was made to the Dolly Parton's Imagination Library, providing an Imagination Library book to a child each month for 1 year!