#1 International Bestselling Author Alvin Adjei releases his book "A Case for Greatness"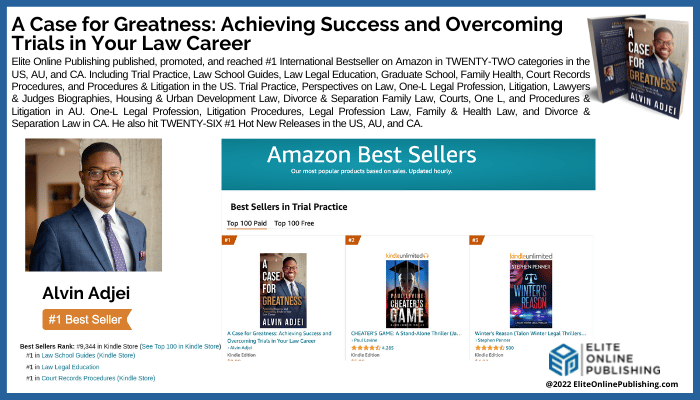 FOR IMMEDIATE RELEASE 
#1 International Bestselling Author Alvin Adjei releases his book "A Case for Greatness" with Success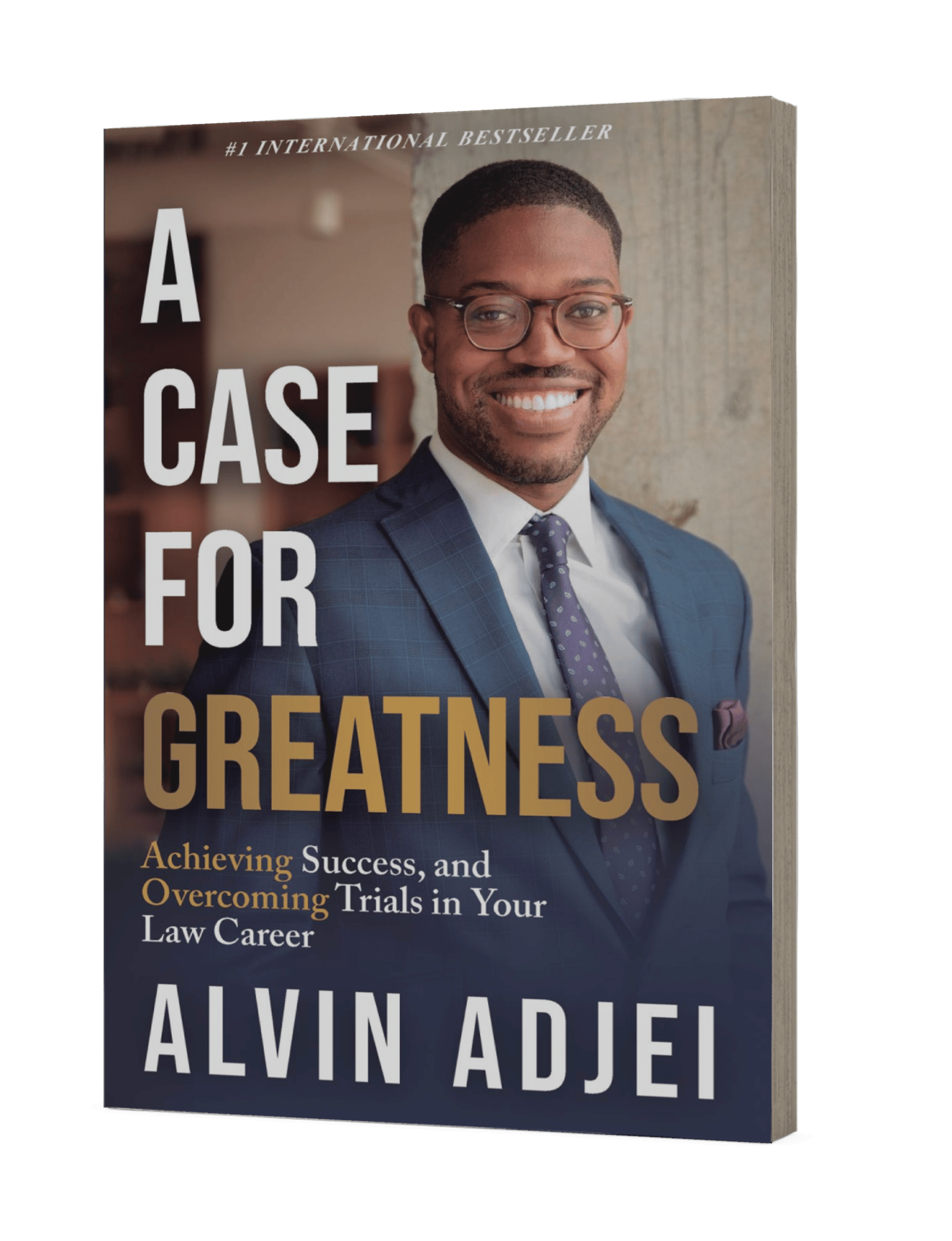 Houston, TX – Wednesday, November 11, 2022 – Author Alvin Adjei joined the ranks of bestselling authors on Amazon with his New Book, "A Case for Greatness," which was released Friday, November 8, 2022, by Amazon.com – the nation's #1 place to buy books.
Elite Online Publishing published, promoted, and reached #1 International Bestseller on Amazon in TWENTY-TWO categories in the US, AU, and CA. Including Trial Practice, Law School Guides, Law Legal Education, Graduate School, Family Health, Court Records Procedures, and Procedures & Litigation in the US. Trial Practice, Perspectives on Law, One-L Legal Profession, Litigation, Lawyers & Judges Biographies, Housing & Urban Development Law, Divorce & Separation Family Law, Courts, One L, and Procedures & Litigation in AU. One-L Legal Profession, Litigation Procedures, Legal Profession Law, Family & Health Law, and Divorce & Separation Law in CA. He also hit TWENTY-SIX #1 Hot New Releases in the US, AU, and CA.
ABOUT THE BOOK
Life is a journey, not a destination. In this journey, opportunities emerge for us to answer the call and discover a variety of lessons that better prepare us to face our purpose in life with confidence and courage as we seek to rise above the storms of life.
Under such circumstances, we become aware of a need to fulfill our innate purpose in life. Our purpose is the thing that we dream about, the thing that we desire to accomplish in an ideal situation.  The biggest obstacle of why we do not seek to accomplish this dream is fear. We are fearful of failure, the unknown, and the perceived difficulty associated with the challenges we face. We must all discover and navigate the mission and purpose for our lives. How do we fulfill our destiny when life keeps throwing so many obstacles our way? The answer is hidden in those challenges we face. In the middle of those storms is where we learn what we must do to grow and move forward. Nevertheless, in order to move forward, we have to have the courage to answer the call. I invite you to join me in this bold leap to the call as a trial attorney.
Through trials both personal and professional, I have overcome the challenges of my parents' divorce, the death of my track career, and struggles at the District Attorney's Office to become an accomplished attorney. In this journey, the reader will be empowered to learn the lessons that could help them face life's challenges with courage so they, too, can answer the calling on their lives.
ABOUT THE AUTHOR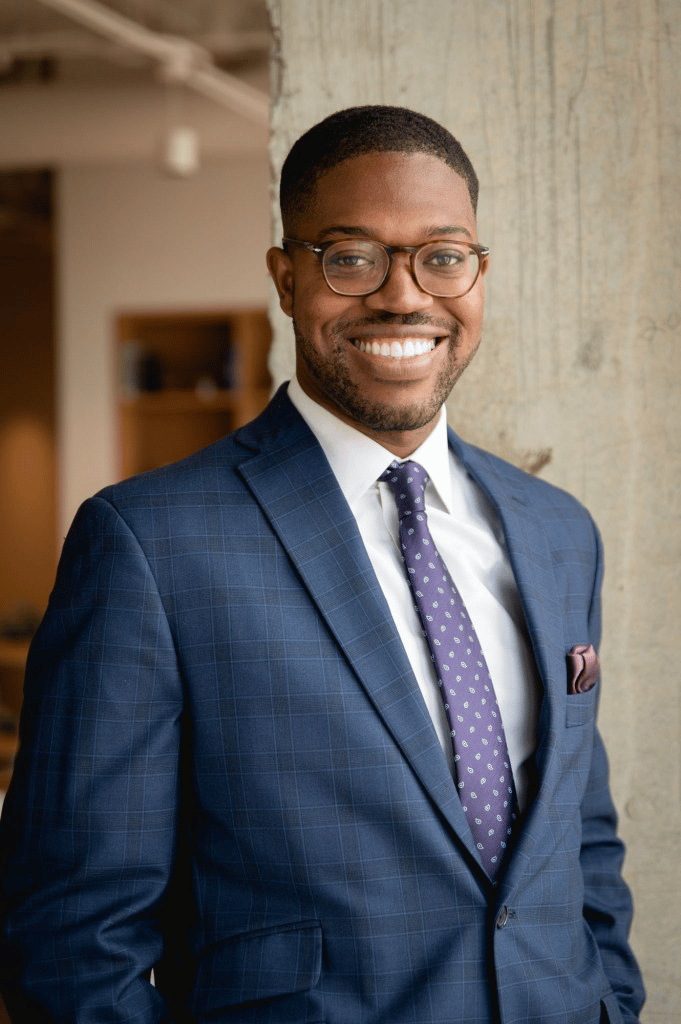 Alvin Adjei is an American author and practicing lawyer. He is also the former President of the Houston Young Lawyers Association (HYLA.) Under his leadership, HYLA received recognition from the State Bar of Texas and the Texas Young Lawyers Association. Alvin has been consistently recognized since 2018 as a Rising Star by Super Lawyers Magazine, as well as receiving their Top 100 Rising Stars and Best Lawyers: Ones to Watch in America distinctions in 2022. Alvin founded his practice, Burritt Adjei PLLC, in 2018. He is deeply committed to his job and clients, representing them in personal injury and criminal defense cases. Prior to opening his own practice, Alvin practiced law at Abraham Watkins Nichols Sorrels Agosto Aziz, where he gained substantial experience in all aspects of litigation. He also worked at the Harris County District Attorney's office, where he was quickly promoted to Chief of County Criminal Court 6.
Alvin Adjei is a graduate of the University of Notre Dame and Notre Dame Law School, where he received the annual Jon Krupnick award for excellence in the art of Trial Advocacy. He now serves as a guest instructor for their Intensive Trial Advocacy Course. Alvin resides in Houston, Texas, where he stays active building his law practice, training for marathon races, and spending time with his family.. 
Click Here to Follow Alvin on Instagram!
Click Here to Follow Alvin on Facebook!
Click Here to Follow Alvin on LinkedIn!
Click Here to Order a Copy Book!
ABOUT ELITE ONLINE PUBLISHING 
This book was published by Elite Online Publishing, Authority In Every Word. Writing is just the beginning. It's about ensuring your book helps you smartly grow your brand, business, and credibility. Founders Melanie Johnson and Jenn Foster built Elite Online Publishing with a singular purpose in mind: to empower you to deliver authority in every word you write. They, along with their team of experienced publishers, deliver a high-touch and high-impact experience for creating, publishing, and marketing #1 bestselling books. In fact, they are passionate about more than telling great stories. They are adamant about proving the value of your perspective and expertise by ensuring you become a #1 bestselling author. So much so, they guarantee it. No matter where you are in the book writing process, Elite Online Publishing is your partner for creating, publishing, and marketing your #1 bestselling book. For more information, visit www.eliteonlinepublishing.com and tune into the Elite Expert Insider Podcast and Elite Publishing Podcast.
Learn more about Elite Online Publishing at EliteOnlinePublishing.com
A donation was made in Alvin Adjei's name on behalf of Elite Online Publishing to sponsor a child at the Barbara Bush Literacy Foundation—the child will receive 6 books of their choice provided by the foundation. An additional donation was made to the Dolly Parton's Imagination Library, providing an Imagination Library book to a child each month for 1 year!
Learn more about the Barbara Bush Literacy Foundation
Learn more about Dolly Parton's Imagination Library