Arthur F. Coombs III Hits #1 Amazon Best-Seller List with "Don't Just Manage… LEAD!"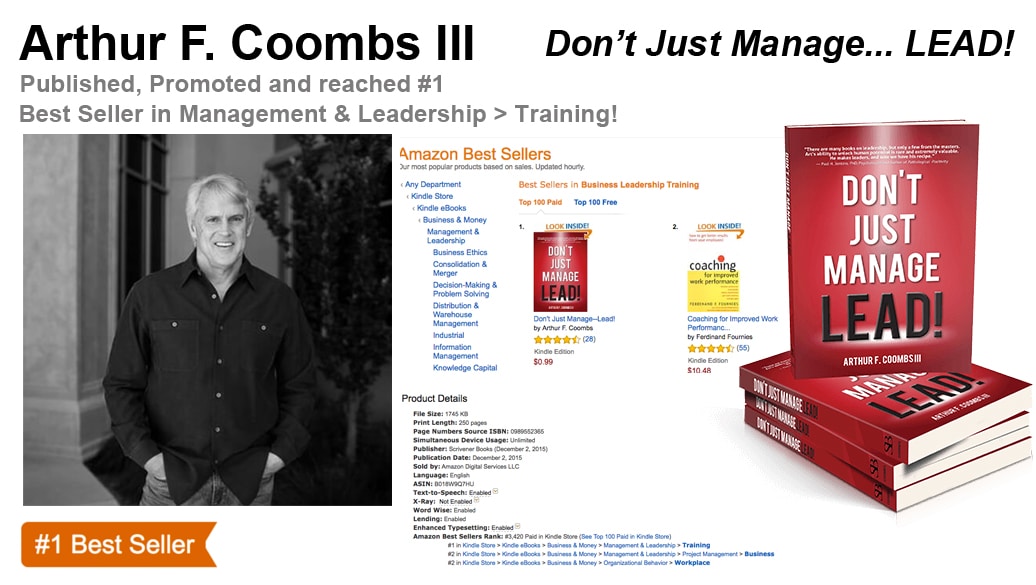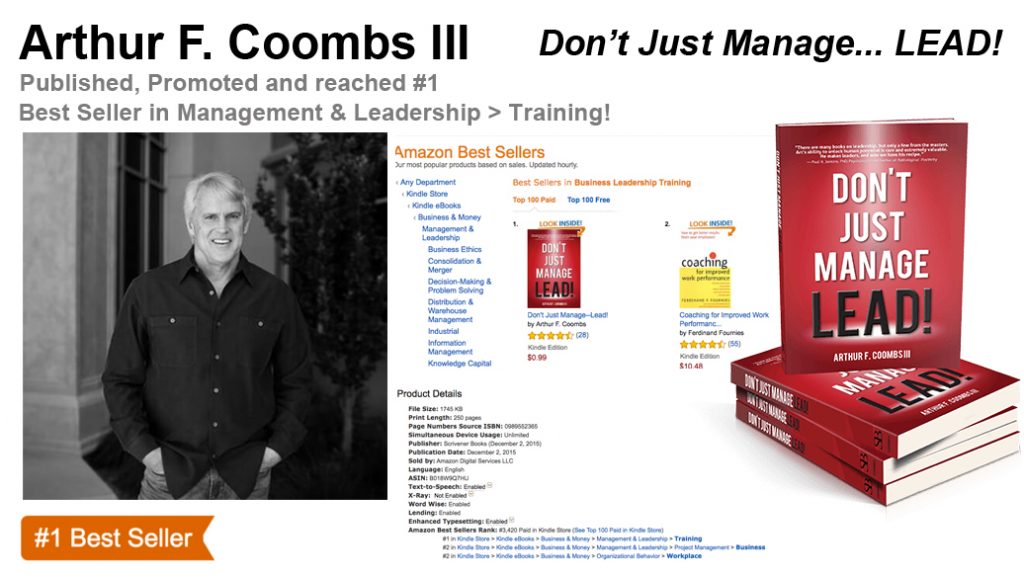 CEO & Author Arthur F. Coombs, recently hit No. 1 National Amazon.com best-seller list with his book, "Don't Just Manage… LEAD!"
Salt Lake City, UT–Thursday, January 12th, 2017  – Best Selling Author and Speaker Arthur F. Coombs Hits #1 in Business & Money > Management & Leadership > Training Category with his New Book, "Don't Just Manage… LEAD!", which was re-released January 11, 2017 by
Amazon.com – the nation's #1 place to buy books.
On the day of release, "Don't Just Manage… LEAD!" started its upward movement towards best-seller status in the Business & Money Category on Amazon.com. On January 12, 2017 the book has reached #1 best-seller status in:  Business & Money > Management & Leadership > Training Categories.
About Arthur F. Coombs III –
Arthur F. Coombs III knows a thing or two about leadership. During the past twenty-five years, Art has worked in leadership positions with a number of global firms and their call/BPO centers worldwide. Currently president and CEO of KomBea Corporation, Art has served for more than a dozen years developing and marketing tools that blend human intelligence and automation to improve call center phone interactions.
Art has also served as executive vice president of business development and strategic initiatives for FirstSource; CEO and founder of Echopass Corporation (the world's premier contact center hosting environment, which was acquired by Genesys for about $110 million); CEO of Sento Corporation; and managing director and VP of European business development for Sykes Enterprises.
Art is a widely published author of methodologies for BPO/contact centers, outsourcing, and technical support, and has served in leadership positions at Hewlett-Packard, VLSI Research, and RasterOps.
What started more than twenty years ago with a presentation in Paris has positioned Art as a charismatic, innovative, and sought-after speaker across the globe.
His authentic style of delivery, solid content and practical applications leave his audiences ready to make a difference in their own spheres of influence.
Without a doubt, Art's heartfelt and humorous insights captivate and inspire all who hear him.
Follow Arthur at:
https://www.linkedin.com/in/artcoombs
Save
Save