Elite Online Publishing Launched a New Bestselling
Book by Bennett Fisher
Author Bennett Fisher introduced his new book
"World War II, Pacific Theater: Extraordinary Stories of Heroism, Victory, and Defeat" which climbed quickly to be a #1 National Bestseller on Amazon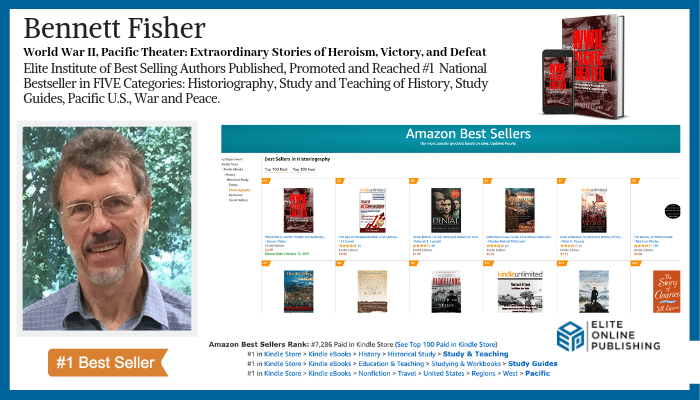 February 8, 2019, 09:00 am Central Standard Time
Houston, TX. -Elite Online Publishing today, announced it's newest bestselling author Bennett Fisher, who's recently released book, "World War II, Pacific Theater: Extraordinary Stories of Heroism, Victory, and Defeat" quickly climbed the charts to become a number one bestseller on the day of its release, February 7, 2019.
The book was Published, Promoted and Reached #1 National Bestseller in FIVE Categories on Amazon: Historiography, Study and Teaching of History, Study Guides, Pacific U.S., War and Peace.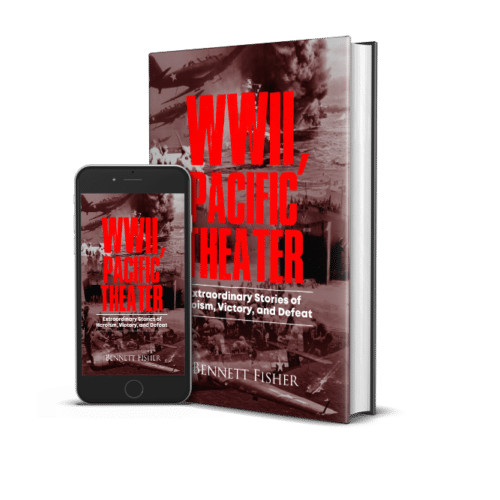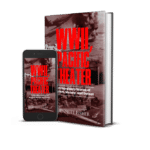 About the Book –
From Pearl Harbor 12/7/1941 to the second atomic bomb 8/9/1945 at Nagasaki was three years and nine months. More than sixteen million Americans were in uniform for World War II (WWII). One hundred fifty-four thousand died in the Pacific Theater in combat, as prisoners of war, from disease, and in accidents. This book describes the experiences of some of these countless Americans, of military members of the Empire of Japan, and one Australian Army nurse. These true stories, some familiar but most lesser known or even unknown; include humor, drama, poignancy, heroism, teamwork, camaraderie, ecstasy, and despair – all realities of War. The stories include sidebar accounts. Some fast forward to current times, for comparisons.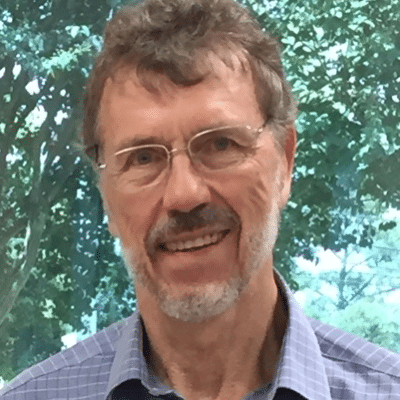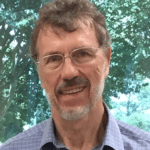 About the Author –
Bennett Fisher's father was Chief Quartermaster on the Mahan-class USS Preston DD-379 destroyer at the Second Naval Battle of Guadalcanal, 11/13 and 14/1942. This destroyer was the fifth Navy ship of six named after 1861 U.S. Naval Academy graduate (first in his class) Lieutenant Samuel Preston (1840 Canada – 1/15/1865 Fort Fisher, North Carolina). Preston was killed in a ground assault on the Confederate Fort Fisher, which protected the South's trade routes from Europe and the Caribbean to Wilmington, North Carolina, during the Civil War.  
Preston was part of a six warship Task Force (four destroyers and two cruisers) in the 11/13-14/1942 Naval Battle of Guadalcanal. The Task Force intercepted a much larger Japanese Task Force delivering troops and supplies to Japanese strongholds on Guadalcanal Island. The Japanese Navy sank or heavily damaged all six American ships except for one cruiser. The Preston sank with more than half its crew lost, including 1924 U.S. Naval Academy graduate Captain (Commander) Max Stormes.  
Bennett's father survived, after 14.5 hours in the ocean sharing a life jacket with a crewmate. Most of his shipmates did not.
After World War II, his father married and moved to the Rio Grande Valley of Texas to farm dry land he inherited from his mother. Bennett was the first of four children born.
Bennett's father would not talk of his Navy and War experiences. After his father died, Bennett researched his father's six-year military career. This led to his interest in military history, especially the Pacific Theater of World War II. Bennett took a continuing education course at Rice University on WWII, Pacific Theater. He has given talks on World War II history. He has assisted senior veterans in preparing presentations on their time in the military. He currently coordinates a Veterans group for seniors at a YMCA in Houston.
About Elite Online Publishing
This book was published by Elite Online Publishing, the brand building publisher – write, sell, & market your book online. Elite Online Publishing helps busy entrepreneurs, business leaders, and professionals create, publish, and market their book, to build their business and brand. They are passionate about future authors sharing their stories, knowledge, and expertise to help others.  Educate, inspire and motivate others by telling your story.
Learn more about Bennett Fisher by clicking below:
Amazon.com/author/BennettFisher
Follow Bennett Fisher by clicking below:
Facebook.com/authorbennettfisher