Elite Expert Insider Interview with Bob Donnell – Melanie Johnson and Jenn Foster interview Bob Donnell and talk about going to the Next Level! Bob is an international Speaker, Coach and Trainer. As a leading Results Strategist, Bob continues to work with entrepreneurs, sales professionals, celebrities, professional athletes as well as any who desires to take their life and business to the next level. – Watch the PODCAST NOW on Apple Podcast or Stitcher Radio.


Or visit our PODCAST on our website.
Bob's body of work includes authoring several e-Books, recording audio programs, hosting radio programs. He also hosts a weekly live video-streaming, interactive program with members worldwide. Bob has worked with a distinguished list of clients including Coldwell Banker, Long Beach Grand Prix, Arbonne International, ReMax, World Ventures, Oakley Inc., Pre-Paid Legal,. In addition, Bob has loved working within the entertainment industry; the Academy Awards, the WB Music Awards, Victor Awards, The Grammy's and, as a result, has been able to interact with and study some of the great artists in the world including Garth Brooks, The Backstreet Boys, Reba McIntyre, and Will Smith.
The culmination of Bob's 20+year career has led him to create Next Level Live, Inc. which continues to stand as a beacon for those desperately looking to take their lives to the next level. His expertise in knowing the human condition and the keys to getting stronger, faster results sets him apart from his peers.
Simply put, Bob Donnell gets results. If you're looking to take your life or business to the next level, there's no better time than the present to start getting results that speak for themselves.
Are you ready? – Visit the website for more information.
Website: http://www.EverythingNextLevel.com
Buy Bob's books on Amazon by clicking the images below!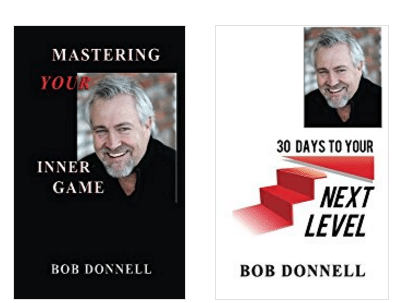 Save
Save
Save