We are excited to announce the new book by Cynthia Guill "Hungry Hap"
TODAY ONLY, the Kindle eBook is only $1.99 cents. Head over to Amazon and order your book for yourself or a friend. Hurry before the price goes back to the regular price $9.99.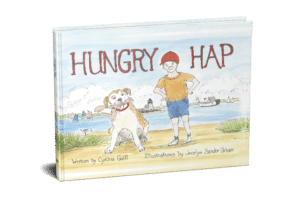 Share this link: https://amzn.to/3qnQNlf 
International Link:  https://authorexperts.club/show-book/B08XWRTYZT
ABOUT THE BOOK
Your children will delight in the fun adventures through Nantucket of a boy and his energetic dog who needs to learn the lesson of moderation when it comes to his huge appetite.
Hungry Hap captures the affinity and bond between a boy and his adopted, four-footed friend.
A young boy, Henry, and his dad start on their way in search of a loving dog in need of a warm home and find themselves on a wild adventure. Their adopted dog is quite a handful, more than they expected. He has a VERY healthy appetite and even GREATER imagination, leading them on an exploration of the island of Nantucket. Along their quest for their dog to feel a bit more healthy, they discover that spending quality time with one another feeds more than just the stomach's appetite.
They say a dog is a boy's best friend, but friends of Henry and Hap know this bond is deeper than long walks and turkey treats. The poetic text and heartwarming illustrations evoke the devotion and happiness between the pair.
About The Author
As a little girl growing up in Dallas, Texas, Cynthia would stay up long past her bedtime sitting at the top of the stairs, listening to her parents and their friends toast each other at dinner parties with poems they had written for one another celebrating birthdays, anniversaries, or basically anything, if the muse inspired them. Whether short, or sometimes way too long, the poems never ceased to delight; and ever since then, she has enjoyed writing poems for, and about, family, friends, and now a rescue dog, she loves. She lives in Houston with her husband, Ben, their dog, Hap; cat, Minnie Moo Moo; and outdoor cat, Kittyfur, and is blessed to have all four grown children and their families living a bicycle ride away. Whether at their summer home on Nantucket or in Houston, Cynthia enjoys volunteering, needlepoint, serving on the Altar Guild of her church, keeping the ice cream drawer filled with popsicles and M&M's. She also is dedicated to walking, walking, and more walking with Hap, who at this very moment is no doubt dreaming of, trying to, or successfully eating something he shouldn't.
Click Here to get your copy today for only $1.99.
Watch the Video Trailer
PS – It would be a super extra favor to the author if you had the time to write a review of the book on Amazon. We will look for feedback on what you thought about the book and the biggest benefit you received from the book.
Click Here to leave a review.
Visit for more: www.HungryHap.com