Author Francie Willis Hits #1 International Bestseller With New Book
"The Fight For Family: Defeating Generational Dysfunction, Finding Generational Freedom"
Houston, TX–Friday, December 14, 2019 – Author Francie Willis joined the ranks of bestselling authors on Amazon with her new novel, "The Fight For Family: Defeating Generational Dysfunction, Finding Generational Freedom," which was released Thursday, December 12, 2019, by Amazon.com – the nation's #1 place to buy books.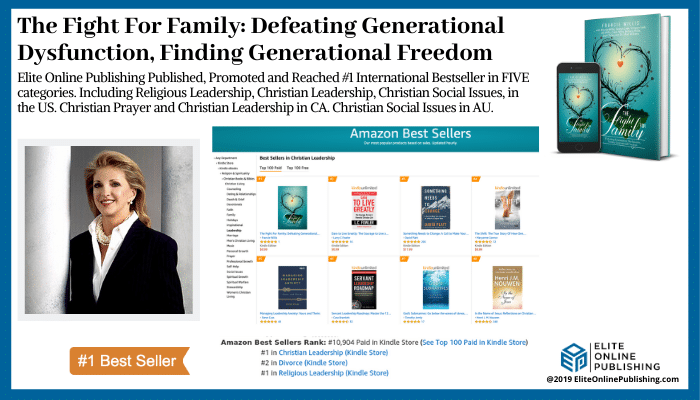 On the day of release, her book started its upward movement towards bestseller status on Amazon.com and reached #1 International Bestseller in FIVE categories. Including Religious Leadership, Christian Leadership, Christian Social Issues, in the US. Christian Prayer and Christian Leadership in CA. Christian Social Issues in AU.
DOES YOUR FAMILY NEED TO BREAK THROUGH generations of dysfunction like ours did?
What if your family could win the fight against dysfunction? What if you could write the remaining chapters of your family's future? What if you could describe the freedom your family found, freedom your family restlessly sought for generations? What if "the journey your family is on" is not destined to crash and burn?  What if your family could be rerouted onto a road of healing more than you ever dreamed possible?
Generational dysfunction destroys the fabric of the family. It is an oppressive cancer that multiplies stress and anxiety. It smothers our last ounces of hope, ambushes our most precious relationships, and embezzles priceless time that can never be recovered.
Examining dysfunction through the lens of scripture, author Francie Willis, along with six of her grandchildren, transparently and courageously tell their story with newfound clarity to make what could have been a tell-all tirade into a heal-all love letter.
Read their book and discover how you too can:
Learn to speak truth that heals
Adopt a no-shame no-blame policy
Regain power by releasing control
Make a new message out of an old mess.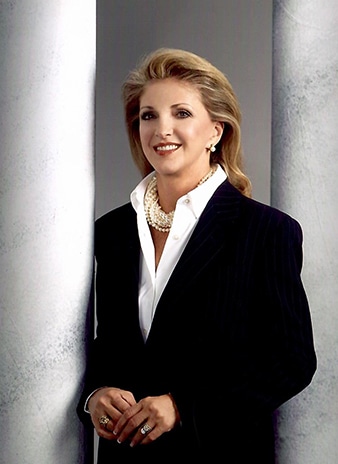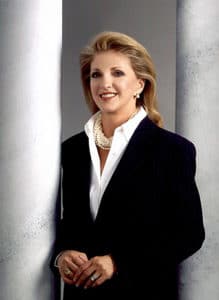 About Francie Willis
Francie Willis began her professional career with the Wendy Ward Charm School coaching over 6,000 young women in a short span of six years. Her experience led her to the staff of Miss Teenage America as event choreographer and to the development of a nationwide Business Etiquette Program for Women. Traveling across the nation, she made presentations to Fortune 500 companies, and consulted with management staff of corporations in the USA. Including IBM, 3M, Coca Cola, General Electric, Xerox, Chevron, CBS, Sara Lee, & Eastman Kodak.
As a visionary entrepreneur, Francie Willis took a pioneering step when she opened Urban Retreat, a luxury day spa and salon in the heart of River Oaks, Houston, Texas. Within four years after opening her industry transforming business, Modern Salon and Spa, the two leading industry magazines, named Urban Retreat the 1993 Spa of the Year. As Co-Founder and CEO of Urban Retreat, her success has been recognized by Allure, Better Homes & Gardens, Elle, Redbook, Vogue, Harper's Bazaar, Town and Country, Women's World, Seventeen, People and Day Spa Magazine.
With her reputation well established, Willis opened Urban Retreat West Day Spa and The Urban Retreat Skin Care Center and Medi Spa. Utilizing the knowledge gained from her skin care research and experience, she gained notoriety in the cosmetics industry creating Franché® Mineral Cosmetics (the first mineral-based makeup with freeze-dried vitamins and sun protection factor (SPF) 20 and Franché® Chirally Correct Skin Care. Franché® launched at the celebrated Henri Bendel department store in New York. The development of her skin care line included products for women, men, and children.
Willis has been the recipient of numerous awards, including the Grandmother of the Year and Inspiring Business Woman of the Year by The Inspire Women's Organization, the Houston Treasure Award by the Social Book of Texas, Business Entrepreneur and Business Woman of the Year by the Texas Women's Chamber of Commerce, Community Hero Award by the Houston Fire Museum, Distinguished Service Award by the University of Houston HAO, "Windows of Opportunity" Business & Entrepreneur Honoree by Benefiting Inner City Kids with Scholarships, Lifetime Volunteer by the Citizens for Animal Protection (CAP), Top 25 Houston Leaders and Legends, and Volunteer of the Year by The National Association of Fund-Raising Executives, Humanitarian of The Year by the Cleveland Amory National Association, and Business Woman of the Year by the national organization A Tribute to Business Women.
Follow Francie
Instagram.com/authorfranciewillis
About Elite Online Publishing
This book was published by Elite Online Publishing, the brand-building publisher – write, sell, & market your book online. Elite Online Publishing helps busy entrepreneurs, business leaders, and professionals create, publish, and market their book, to build their business and brand. They are passionate about future authors sharing their stories, knowledge, and expertise to help others.  Educate, inspire and motivate others by telling your story.