Why Goal Setting Works
I know SMART goals are a very effective way to make and set a goal. But, I do find them sometimes tedious and hard to do. Since I have written about goal setting recently, I decided that instead of writing about how to set goals, I would share with you five reasons why goal setting works. We understand that goal setting is important and by setting them it will help you increase productivity, and can build ones self-confidence. But the study behind it is a bit vaguer. The wonderful thing about knowing why something works can make you A) more willing to do it (whatever "it" is) and B) more informed, and being more informed helps you make better decisions.
Here are five reasons why goal setting will improve your focus:
1. Goals spark behavior.
Having a clear, motivating goal will help your focus toward actionable behavior. In other words, goal setting should compel you. Let's assume, for example, that you have a friend with a goal to save money to purchase a new vehicle. You ask him what type of car he wants and he replies, "Anything that runs." Do you think that motivates him? Probably only a little bit. The problem here is that the end state isn't clear. (think SMART goal) If his goal was more specific, such as "Save $10,000 by December to purchase an end of year deal on a new Jeep," now he has something to pursue; he has a mental picture that triggers his focus and motivates him to keep saving.
2. Goals pilot your focus.
When you set a goal you naturally start thinking of the next step and, as a result, you lead yourself in the correct direction which forces your actions—your behaviors—to follow. I like the saying: whatever the mind believes, the body achieves. The body follows the mind. Every single person has the ability to stay focused on something for an extended period of time.
3. Goals strengthen, support and give momentum.
Seeing progress is compelling. It becomes addictive. Because of the dopamine released in your brain after attaining a reward progress can become addictive. Just as a snowball grows in size as it's rolled down a hill, momentum works the same way. Just think of the last time you were really "in the groove" where you said to yourself, "I'm on a roll!" That's momentum. Whatever you were doing you probably didn't want to stop because you were at an optimal state of mental performance.
4. Goals bring order to your focus.
Goal setting helps you bring order to your focus with behavior because you receive feedback on your progress. The actions you take—or avoid—offer clues about your values, beliefs, challenges, strengths and weaknesses which allow you to correct as necessary and reset your goal achievement strategy (and subsequently, your focus).
5. Goal setting promotes self-discipline.
Possibly the most important reason why goals work is because they build character. Well as a matter of fact, achieving goals builds character. While the process of goal setting is important because it helps unearth and identify what's truly important to you, pursuing your goals is the real money-maker (literally and figuratively) because it builds in you an innate ability to achieve goals; it develops you as the type of person who can achieve goals.
We have a wonderful planner that gives you crafted techniques and can get you started with your goals for this year. You can purchase this planner by clicking on it.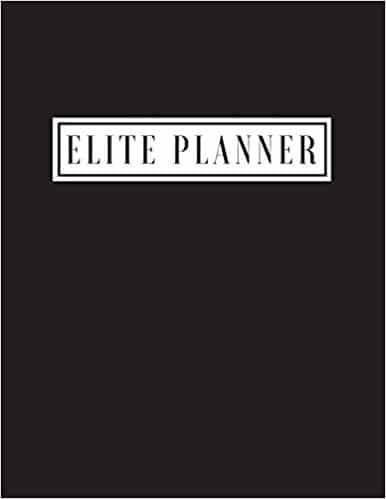 CRAFTED STRATEGIES: Use these proven techniques that we learned from studying with Grant Cardone, Tony Robbins, Jim Rohn, Tai Lopez, Shawn Achor, and Tim Ferris. To improve your productivity, sales, and happiness, the Elite Daily Planner is the ONLY choice in dated planners and personal organizers! Get more done and feel better every day!! Includes over 60 inspiring quotes!!
AMAZING BONUSES: Besides the Incredible Elite Daily Planner, you'll receive 10 FREE ebooks from NY Times Bestselling Author Loral Langemeier ("Millionaire Maker") and #1 Amazon Bestselling Authors like Mike Koenigs ("Money Phone"), Erik Swanson ("Time Habitude Warriors"), Joshua Evans ("Enthusiastic You"), Melisa Hall ("Declare Your Dreams"), Doug Grady ("The Ripple Effect"),  Warner Roberts ("Life is an Adventure"), Jessica Leigh ("The Modern Classic Woman"), Cory Jenkins ("I Love Myself So… "), Melanie Johnson & Jenn Foster ("How to Write Your Story of Accomplishment and Personal Success") and Jenn Foster & Everett O'Keefe ("Books to Bucks"), and 10 video mini-courses from those authors. All to multiply your productivity, prosperity and positive attitude 10X.
ALL ABOUT GETTING IT DONE: With Yearly, Monthly, Weekly, Daily Goals, and Project sections each week, you can get organized and prioritize your life in WRITING! The Elite Daily Planner helps you define your short and long-term goals and create a step-by-step game plan to reach them. The Elite Daily Planner system will help you easily achieve work/life balance and stay on track with your goals and productivity.
HIT YOUR GOALS: Research shows by writing your goals and action items each week you will accomplish more! The Elite Daily Planner can help stop procrastination and keep you accountable! Imagine hitting all your GOALS!  The Elite Daily Planner will help you get there FAST!
THE BEST DARN PLANNER: The Elite Daily Planner system is so amazing that we are sure you will love it!! Your productivity is are our top priority.