In order to see your book all over the web, you should publish your book for Print and eBook!
We use Kindle Direct Publishing (KDP) for our Book Distribution, as well as IngramSpark.
Expanded Distribution offers you the opportunity to access a larger audience through more online retailers, bookstores, libraries, academic institutions, and distributors within the United States. Expanded Distribution will also improve discoverability of your book across all the channels. Regardless of whether or not you include your title in Expanded Distribution, all CreateSpace titles can be distributed through the Amazon.com, Amazon Europe and eStore channels.
How does it work?
Most online retailers, bookstores, and libraries find books through purchasing relationships with large distributors. If your book is not listed with these distributors, some retailers may not be able to buy your book, even if a customer specifically requests your title. Through Expanded Distribution you can distribute and make your title available for order (this does not guarantee that your book will actually be ordered) through the following channels:
Bookstores and Online Retailers – make your book available to online and offline retailers such as Barnes & Noble and to distributors such as Ingram and NACSCORP.
Libraries and Academic Institutions – make your book available through Baker & Taylor to libraries and academic institutions.
Kindle Direct Publishiing – make your book available to certified resellers through our wholesale website.
Amazon Kindle Direct Publishing is always looking for ways to improve the distribution opportunities for our members so, from time to time, they may add or change the channels available through Expanded Distribution.
To publish your book as an eBook we publish it to the following: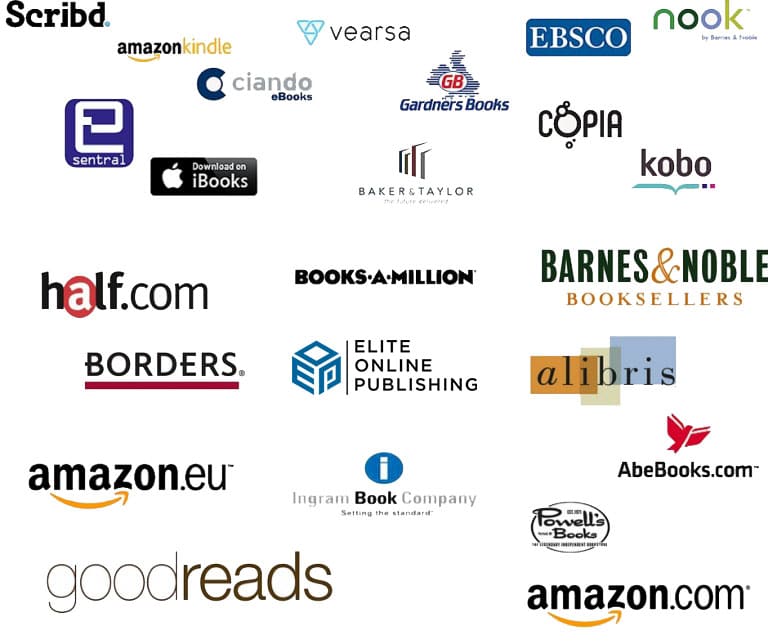 iBooks (for iPad)
Sell your eBook on Apple's iBooks, the premier eBook destination for iPad, iPhone, and iTouch owners in over 50 countries around the globe. Readers can purchase your eBook through the iBooks app, available for free through iTunes.
Amazon (for Kindle)
Reach millions of readers by publishing in Amazon's Kindle store. Amazon is the largest online retailer in the world and the Kindle is by far the most popular eReader on the market. Your eBook will be available for sale in just a few days, and able to be enjoyed on the Kindle and many other readers through the Kindle reader app.
Barnes & Noble (for NOOK)
Barnes & Noble is the largest retail book retail chain in the United States, with over 650 bookstores throughout the country plus another 700 college bookstores. Your eBook will be available on their website BN.com and easily purchased by millions of NOOK owners around the world.
Kobo
Publish your book in the Kobo eBook store and get additional distribution in 12 more major international outlets including WH Smith (UK), Libris (NL) and BookWorld (AUS). Kobo owns about 20% of the worldwide eBook market, behind only Amazon, and is the leading eBook retailer in many countries, including Canada and Japan.
Copia
Sell your book on Copia and its growing list international eBook website. Powered by new stores including BookTique (Singapore) and Submarino Digital (Brazil), Copia allows customers to add comments to eBooks that can be read by the Copia community for a truly unique and social reading experience. Copia customers can also join or start group conversations about the books they're reading.
Gardners Books
Want to find readers in the European Community? Sell your eBook on Gardners Books, Britain's leading book, DVD, Blu-ray, and music CD wholesaler. Gardners' network partner (Hive.uk.co) distributes your eBooks to an additional 80+ retail outlets including Tesco (UK) MIBOOK (Denmark), and LAIE (Spain). Gardners also provides an eBook lending model UK libraries.
Baker & Taylor
Baker & Taylor is a leading distributor of books, videos, and music products to more than 36,000 libraries, institutions and retailers in more than 120 countries. Through its own retail outlet BLIO plus 3 manufactuer stores including Dell, HP, Toshiba, T-mobile and Intel, your eBook will be available alongside 1.5 million other titles, from current hits to time-honored classics.
eSentral
Authors are finding great new audiences in emerging eBook markets and publishing on eSentral means your book will be available for sale in three of the largest eBook stores in Southeast Asia. eSentral has eBook stores in Malaysia, Singapore, and Indonesia, and will be expanding in more countries in Southeast Asia soon.
Scribd
Scribd has been called "the Netflix for books." Their cloud-based catalog includes stories, essays, academic papers, and books from nearly 1,000 publishers, worldwide. Your book will be available to Scribd users via direct purchase or through their new monthly subscription model.
Ciando
Ciando is one of the leading eBook retailers in Germany , now offering distribution through 5 websites, 60 regional libraries and direct relationship with over 1300 German bookstores. Ciando has been selling "books by download" since 2000, long before the eBook revolution — and they've remained at the forefront of digital book retail ever since. Ciando's catalog consists of over 800,000 eBooks, from thousands of publishers worldwide.
NEW! EBSCO
Through BookBaby's partnership with EBSCO, your eBook will be available to libraries and research institutions around the globe. As the world's largest intermediary between libraries and publishers, EBSCO will help you expand the reach of your eBook content.
NEW! Vearsa
Vearsa blazes new trails for  NEW authors. Within a few weeks of publishing, your eBook will be available in 23 major regional eBook retail outlets across a wide variety of territory and genre-specific stores including Waterstones (UK), eChristian (Intl.) and eBooks.com (Intl.) with more stores and libraries added in the coming months.
and Many More.
Elite will help you self publish your book all over the web and in Stores – Contact us today at 1(832) 572-5285