FOR IMMEDIATE RELEASE
Author Warner Roberts recently hit number one bestseller in
SIX categories on Amazon.com with her new book
"Life is an Adventure: Eight Steps to a Happy Life."
Houston, TX – Thursday, May 10, 2018 – Bestselling Author Warner Roberts Hit #1 on Amazon with her New Book, "Life is an Adventure: Eight Steps to a Happy Life," which was released May 8, 2018, by Amazon.com – the nation's #1 place to buy books.
On the day of release, "Life is an Adventure: Eight Steps to a Happy Life" completed its upward climb on Amazon.com reaching #1 bestseller status in SIX Categories including Women's Spirituality, Self-Help Inner Child, and Biographies of Journalists.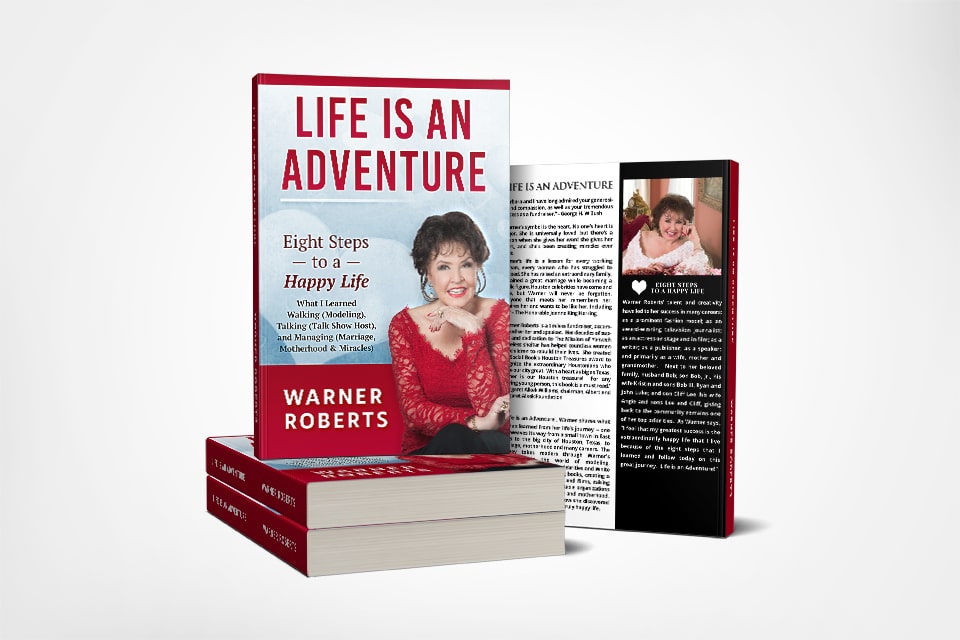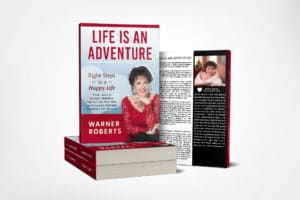 In Life is an Adventure, Warner shares what she has learned from her life's journey — one that weaves its way from a small town in East Texas to the big city of Houston, Texas, to marriage, motherhood and many careers.  The journey takes readers through Warner's adventures in the world of modeling, interviewing hundreds of celebrities and White House politicians, publishing books, creating a museum, acting in theater and films, raising millions of dollars for charitable organizations and her favorite — marriage and motherhood.  Along the way, she details how she discovered her eight-step program for a truly happy life.
Warner Roberts has had successful careers as a fashion model, award-winning television journalist, actress, writer, publisher, wife, mother, and grandmother. What she calls her "Miracle Adventure" set her on the road to an extraordinarily blessed and happy life.
Warner shares her adventures:
In the world of fashion, with Bill Blass in his New York showroom, on runways with famous designers
In the theatre world, playing Lorelei Lee in Gentlemen Prefer Blondes
In writing and performing hundreds of television commercials
In interviewing Roslynn Carter in the White House
In producing Supermom's Country Cookin' Cookbook to honor her mother
In film with Cloris Leachman and Shelly Duvall
In creating The Social Book
In creating the Celebration of Hearts museum in the Texas Heart Institute
In raising funds for a multitude of charities
In her favorite: the world of marriage and motherhood
Warner shares eight steps that she attributes to her happy life that has helped her through all the bumps, glitches, highs and lows, challenges, disappointments, sadness, pain, and joy.  As she says "I am sharing with you what I learned from my life's journey; things that have worked for me; these steps guide me every day:" Number one on the list is "LOVE Your Unique SELF!"
"Barbara and I have long admired your generosity and compassion, as well as your tremendous success as a fundraiser."
~George H.W. Bush
"Warner's symbol is the heart. No one's heart is bigger. She is universally loved, but there's a reason when she gives her word she gives her heart, and she's been creating miracles ever since. Warner's life is a lesson for every working woman, every woman who has struggled to succeed. She has raised an extraordinary family, sustained a great marriage while becoming a public figure. Houston celebrities have come and gone, but Warner will never be forgotten. Everyone that meets her remembers her, admires her and wants to be like her. Including me."
~The Honorable Joanne King-Herring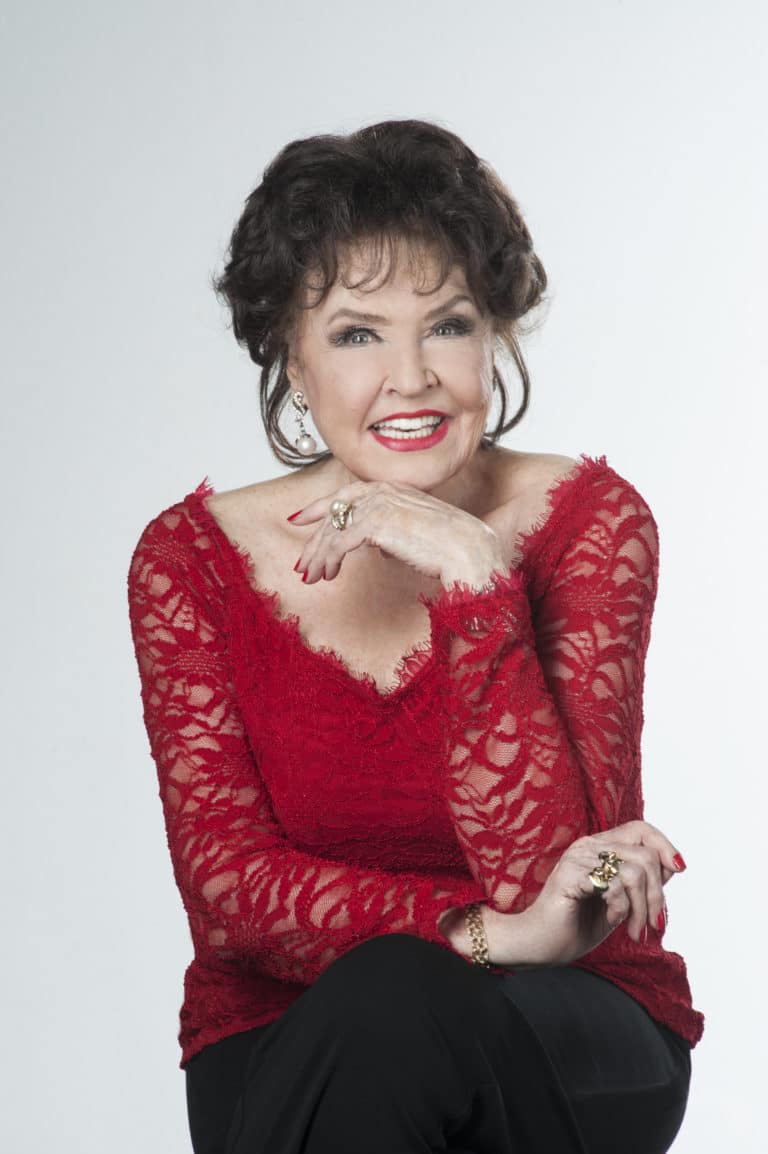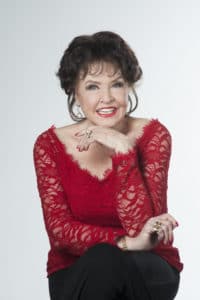 About Warner Roberts –
Warner Roberts made Nancy Reagan cry, Queen Elizabeth laugh, and Billy Graham pray; great photographer Scavullo called her a classic beauty; Joan Rivers called her a great interviewer; Arnold Schwarzenegger and Chuck Norris instructed her in self-defense and famous artist Leroy Neiman sketched her during an interview.
Warner Roberts has had success in many careers: as a fashion model, an award-winning television journalist, an actress in film and theatre, writer and speaker. She hosted "The Warner Roberts Show" and numerous television specials where she interviewed many of America's most celebrated personalities. Recently Warner has had roles in eight feature films. She is also a contributing editor for the national publication, "Cowboys and Indians" and for "H Texas" Magazine. Warner created The Social Book in 1996.
Warner's community service work has included spearheading events and serving as a board member for many organizations. Her history of volunteerism in the city has been rewarded many times, with awards that include the Crohn's and Colitis "Woman of Distinction," the Savvy Award, the Cancer League "Pacesetter of the Year" and "Entertainer of the Year" Award, the American Heart Association "Heart of Houston" Award, the Shrine Hospital Award, Silver Grace Hope Award, Wellsprings Award, Houston Delta Gamma Foundation "Women of Vision" Award, the Cancer League "Heart of Houston" Award, the Houston Children's Charity "Heart of Houston" Award, The Mission of Yahweh "Leaders and Legends" Award, the Lady Washington Chapter NSDAR "Excellence in Community Service" Award, Easter Seals "Hats Off to Mothers" Award and the "I Am Waters" Award. She was the Honoree of the first American Heart Gala, the National Kidney of America Gala and the American ORT Gala. She has been honored three times by the March of Dimes, five times by the Leukemia Society and once by the Cystic Fibrosis Foundation, Cerebral Palsy Foundation, and Texas Children's Hospital. The Houston Chronicle named her one of the "Most Beautiful Houstonians."
Warner has been profiled in three books, including Texas Woman by Richard Pruitt and David Woo, Evin Thayer Mayor's Millennium Celebrity Series, a book that includes photographs of 100 prominent Houstonians, and Wind for New Wings .. a Message from the Leaders of Today to the Leaders of the New Millennium by Bertie Simmons.
Her love of hearts inspired her to create "A Celebration of Hearts" museum in the lobby of the Dr. Denton Cooley Texas Heart Institute, collecting hearts from celebrities nationally and locally for the permanent exhibit. Also, she created an annual event that honors "Houston Sweethearts" on Valentine's Day. She created and annually presents "Houston Treasures" for The Social Book.
The first Mission of Yahweh dorm, for which Warner raised the funds, was named The Warner Roberts Building in 2017. Mayor Sylvester Turner proclaimed "Warner Roberts Day." She has received this honor from two previous mayors.
Warner's top priority is her beloved family, husband Bob, son Bob, Jr., his wife Kristin and their sons Bob III, Ryan and John Luke and son Cliff Lee, his wife Angie and their sons Lee and Cliff.
Order a copy of the book through her Amazon author page:
amazon.com/author/warnerroberts
Follow Warner at:
Facebook.com/WarnerHeartRoberts