Having a bestselling book is like having a golden business card declaring your credibility. It sets you apart as an expert in your field. Here at Elite Online Publishing, we use exclusive, proven strategies for maximizing exposure of your book and build effective online marketing campaigns that take your book to bestseller status at launch – and keep it there! 
All of our Authors are #1 Bestsellers
We Get Bestseller In Multiple Categories
What's the big deal about being a bestseller? Well, it sets you apart from others and establishes credibility. For more information on that, check out this blog post here! Readers will know that you're an expert and potential clients will be more willing to work with you. Not only do we get you a bestseller, but as you can see from the information below, many of our authors achieve bestseller status in multiple categories!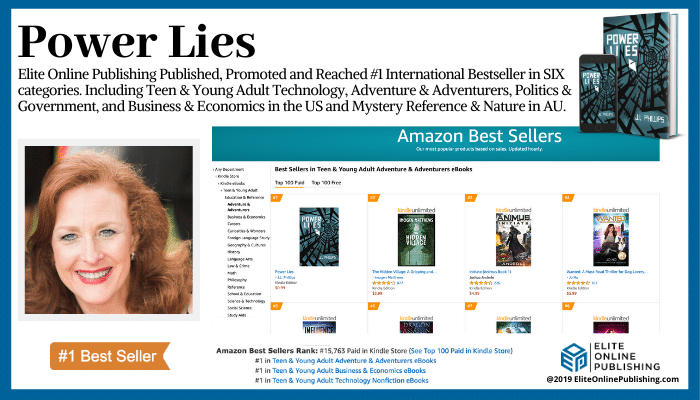 J.L. Phillips published a book with us in December 2019. The book, titled "Power Lies",  is an exciting suspense novel. Here is an excerpt from her press release: 
"Houston, TX– Wednesday, December 11, 2019 – Author J.L. Phillips joined the ranks of bestselling authors on Amazon with her new mystery novel, "Power Lies," which was released Tuesday, December 10, 2019, by Amazon.com – the nation's #1 place to buy books.
On the day of release, her book started its upward movement towards bestseller status on Amazon.com and reached #1 International Bestseller in SIX categories. Including Teen & Young Adult Technology, Adventure & Adventurers, Politics & Government, and Business & Economics in the US and Mystery Reference & Nature in AU."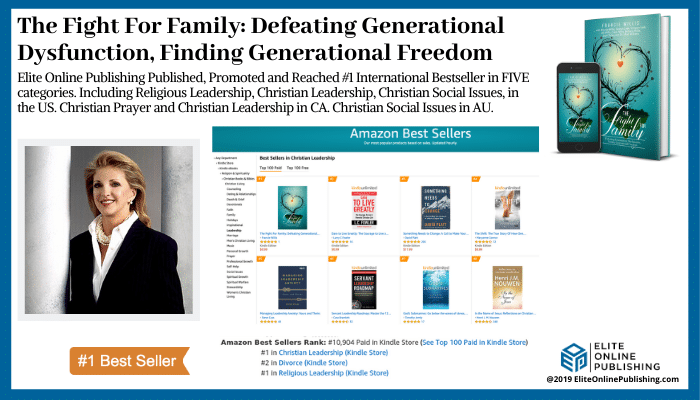 Another author who has seen great success is Francie Willis. Francie is a visionary entrepreneur that published a book titled, The Fight For Family: Defeating Generational Dysfunction, Finding Generational Freedom. The book tackles difficult topics within the family system. It reached bestseller status in FIVE categories. Including Religious Leadership, Christian Leadership, Christian Social Issues, in the US. Christian Prayer and Christian Leadership in CA. Christian Social Issues in AU.
Personalized Experience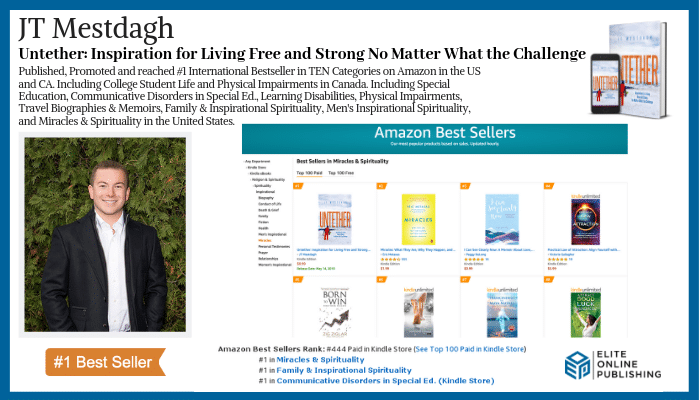 Another aspect of publishing with Elite is that we want to work with you every step of the way. Here is a testimonial from one of our bestseller authors, JT Mestdagh:
"Hi, everyone, I'm JT Mestdagh, and I've had the pleasure of working with Elite Online Publishing. I just want to say how thankful I am to have met Elite Online Publishing and for all this help and support that they have given me. From the startup part where I didn't know anything about publishing a book or becoming a published author or let alone becoming a bestselling author. And so with that, I've had the pleasure of working with Melanie and Jenn and their team and putting together my book Untether, and it's just been an amazing journey. Learning the publishing side of it as well as the social media marketing side. This has just been awesome from them and amazingly helpful. So I can't thank Elite Online Publishing enough."
Contact us today to learn more about how we guarantee bestseller status. For more testimonials, click here!