One of our own Elite Authors, Cynthia Guill, was featured in her local Newspaper, The Hingham Anchor. The story featured her bestselling children's book, Hungry Hap. We are beyond proud of her success and continued growth as her book captures the hearts of every reader- big and small! 
"The Story of Henry and Hungry Hap"
Written by Gabrielle Martin,
The Hingham Anchor;
Photos courtesy of the Fanning Family
Henry Fanning is an eight-year-old Hinghamite who has been residing in town for several years: "We moved here on my first birthday!"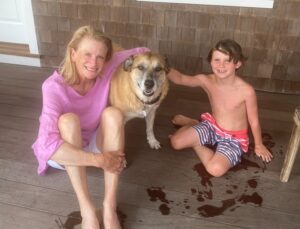 He says his favorite things about Hingham is the friends he's made here. "And my other favorite thing is Nona's chocolate chip cookie dough ice cream!" He adds, and hey, me too, Henry. Then again, "And my other favorite thing is goin to school."
Henry attends East Elementary, where he will be starting third grade this fall. His favorite subject in school is reading and he loves to play lacrosse. He has two sisters, Eleanor and Katherine, and a brand new puppy named Honey Fitz, who they affectionately call "Fitzy."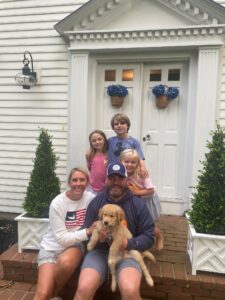 Henry and his father were walking home from Henry's first fishing trip in Nantucket Harbor when they spotted a cute dog on the street. "I asked to pat him, and his owner, Mrs. Giull, was really nice and said 'yes.' She told me her dog's name was Hap and that he loves to eat everything!" Henry shares. "Mrs. Guill told me that she was going to write a children's book about me and Hap, and how we met on a walk."
A few days later, Mrs. Guill stopped by unexpectedly with a fishing rod and lures in-hand so Henry could continue to wish once he returned home to Hingham.
The Fannings kept in touch with Mrs. Guill for many years. "My mum sent Mrs. Guill Christmas cards every year after that," Henry says. "And then, on the last day of second grade, I got a package in the mail—and it was a book about me!"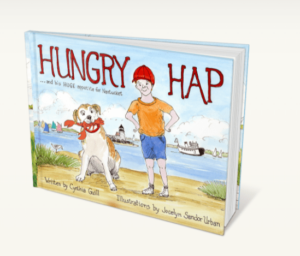 Hungry Hap is a children's book by Cynthia Guill, a Texas-based author with a summer home on Nantucket, that depicts the bond between a boy and his dog. In the book, it all begins with Henry and his dad searching for a puppy to adopt; they soon find themselves on a wild adventure when their adopted dog's appetite is more than they bargained for—and he has an even greater imagination, leading them on an adventure around the island of Nantucket.
Henry says of the experience, "I was really, really surprised and excited! The pictures are all so cool. I love seeing Hap eating all these crazy things all over Nantucket." The Fannings recently returned from their annual trip to Nantucket, and Henry says he cannot wait to go back next summer. "My favorite things about Nantucket are going to Jetties Beach and playing on the sandbars, eating ice cream at the Juice Bar, and swimming in Mrs. Guill's pool!"
Read the article on The Hingham Anchor here: www.hinghamanchor.com/henry-and-hungry-hap/