We are excited to announce the new book by Jesse R. Stewart  Un-Winnable Wars: Finding Victory in the Ashes of Defeat.
TODAY ONLY the Kindle eBook is only $0.99 cents. Head over to Amazon and order your book for yourself or a friend.
International: https://authorexperts.club/show-book/B08HJY6LK3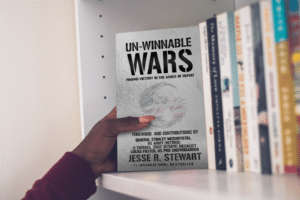 ABOUT THE BOOK
The only pain that exceeds the loss in war, is realizing the "Hard-fought Wisdom" accumulated during battles fought, remained left behind in the ashes of defeat. 
Society in mass is experiencing pandemic levels of an "inability to deal with discomfort and struggle," after loss and/or setback on all levels. However, this mentality has been rampant across history, especially when recording critical information, lessons, and knowledge from unconventional warfare. These essential lessons could not only save a future generation but guide policies to prevent future conflict in the first place.
In history, "Unconventional" warriors rise up to "Counter the Insurgency" often against great odds with limited funding, minimal leadership (with knowledge of tactics), and minimal support from the established "Conventional" leadership generally resisting change. This book is an attempt to connect the author's experience while (at first unknowingly) commanding in a Counterinsurgency War, together with the research, understanding, and application developed in the U.S. Army's Command and General Staff College's "Art of War" Fellowship Program. Analysis of the following attempts the connection:
Past wars (up to Iraq and Afghanistan) and historical "unconventional" units from various countries.

The origin, development, and "codification" of U.S. Special Forces and the Civilian Irregular Defense Group during Vietnam.  

The research of hundreds of historical case studies and in-person oral history interviews regarding Counterinsurgency.
The resulting knowledge in this book, along with other recent studies on unconventional conflict extends beyond the battlefield and military. J.J. Thomas (Olympic Medalist) and Lucas Foster, U.S. Professional Snowboarders, highlight the similarities of mindset and application to that of the U.S. military (especially Special Operations Forces) based on recent connections to veterans. Their contributions to this book in "developing, collaborating, and delivering this 'Hard-fought Wisdom'" increases the chance to keep the knowledge relevant, alive, and not forgotten. That contribution is significant for two reasons:  
① First, make the knowledge available for anyone in need of a "third-door" or "unconventional" solution to various situations and people, therefore offering relief to the often concern of a U.S. "Civilian-Military" divide. 

② Second, mitigate the need for another 26-year old Company Commander during counterinsurgency operations to lose 14 Rangers in a six-month period, only to realize the knowledge and answers to fight this type of battle was there all along. Still, the wisdom was rarely documented, available, or acknowledged by those who write history.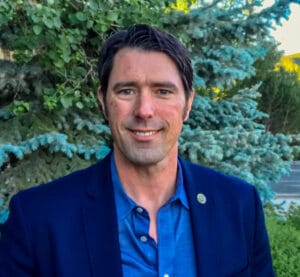 About Jesse R. Stewart
Jesse R. Stewart is the founder of AM300 Solutions (AM300), author, and retired U.S. Army Ranger. Through AM300 he is honored and humbled to "Develop, collaborate, and deliver 'Hard-fought Wisdom' to win in life" with organizations such as the US Ski and Snowboard National Teams, TEDx, US Olympic Training Center, and numerous other high-performing organizations. Jesse's book documenting the mission of AM300, "The Phoenix Project: Hard-Fought Wisdom for Winning in Life" scheduled for release in early 2021. Jesse resides in Dallas, TX and can be found on all social media platforms at @am300phoenix or contacted directly through AM300's website www.am300.com. 
Click Here to get your copy today.
Watch the Video Trailer
If you don't have an amazon account, please open one at: 
PS – It would be a super extra favor to the author if you had the time to write a review of the book on Amazon. We will look for feedback on what you thought about the book and the biggest benefit you received from the book.